Memorial plaque to Admiral Kolchak installed in St. Petersburg
A plaque to Alexander Kolchak, one of the leaders of the White movement during the civil war, was installed yesterday in St. Petersburg, reports
RIA News
.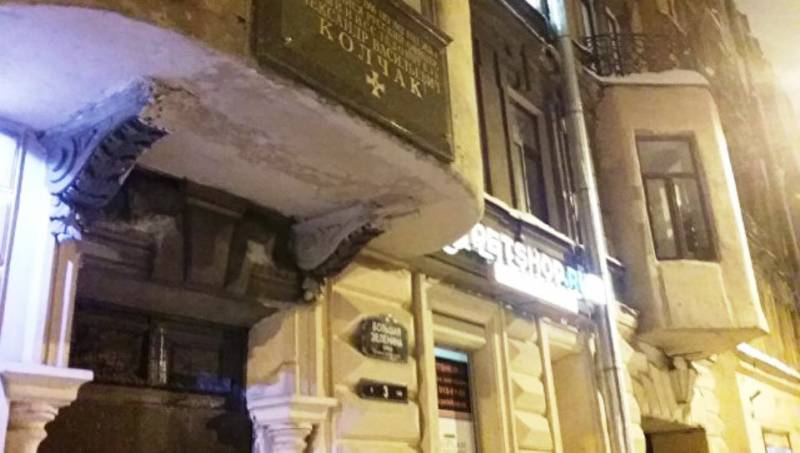 "The board is a plate with a height of 1 meter and a width of 1,9 meter, it is installed on the oriel of the 3 house along Bolshaya Zelenin Street. The inscription on the board reads: "An eminent Russian officer, scientist and researcher Alexander Vasilyevich Kolchak lived in this house from 1905 to 1912 for a year," the agency reported from the scene.
According to him, "locals take pictures of the memorial on mobile phones, with the majority of respondents refer to the perpetuation of Kolchak's memory with caution and expect provocations and attacks by vandals," as happened with the recently dismantled board of Karl Mannerheim.
Earlier, the initiator of the installation of the memorial sign of the White Case Memorial Educational Center reported that the governor of St. Petersburg signed an order to install the board in February of 2015. However, the Internet began collecting signatures for the cancellation of the order. The petition said that "this initiative is a political gesture aimed at justifying mass killings during the years of white terror and dictatorial methods of government."
Then the White Movement reported that the installation of the board was "postponed indefinitely" until all necessary approvals were received.
"Alexander V. Kolchak (1874-1920) - Russian military and political figure, naval commander, oceanographer, polar explorer. During the Civil War was one of the leaders of the White movement, he served as supreme commander of the Russian army. On the night of 6 on 7 February 1920, he was shot by order of the Irkutsk Military Revolutionary Committee "
- reminds agency.