The head of the concern "Ukroboronprom" Roman Romanov during the exhibition "
Weapon
and security "stated that the companies belonging to the concern created the next" newest weapons. " This time we are talking about "unmanned multi-purpose armored personnel carrier", which was called the "Phantom".
The concern's press service reports that R. Romanov had a meeting with the Romanian defense minister named Mihney Motoc, who allegedly expressed interest in the possible acquisition of the "newest Ukrainian unmanned armored personnel carrier". True, it turned out that while there is nothing to acquire ...
From the message
press office
"Ukroboronprom":
During the meeting, the parties discussed the prospects for mutually beneficial cooperation in the defense sphere. Considering the course of Ukraine to accelerate the process of European integration and expansion of cooperation with NATO, the Concern is making efforts to enhance cooperation with the Alliance member countries in the defense sphere.
Translated into a public language, this means that Ukroboronprom asks Romania for money so that the above-mentioned Phantom does not remain (like most of the newest Ukrainian developments) in a single copy.
Meanwhile, "Ukroboronprom" has already published the presentation video "Phantom", in which some characteristics of the mini armored vehicle are marked.
Power reserve (autonomous): 20 km,
speed: up to 38 km / h,
engine type: hybrid,
power - 30 kW (about 40 hp),
protected radio channel within 2,5 km,
lifting weight (transported weight) - up to 350 kg.
It is noted that it "integrates" with
drone
. Armament - 12,7 mm machine gun on a turntable. The aiming range is up to 2 km during the day and up to 1 km at night.
The video shows that with the help of this "vundervaffe" it is possible to evacuate the wounded from the battlefield.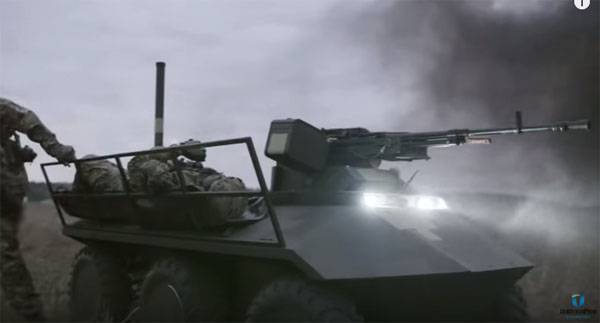 "Phantom" is controlled from the console, which is more like a huge suitcase.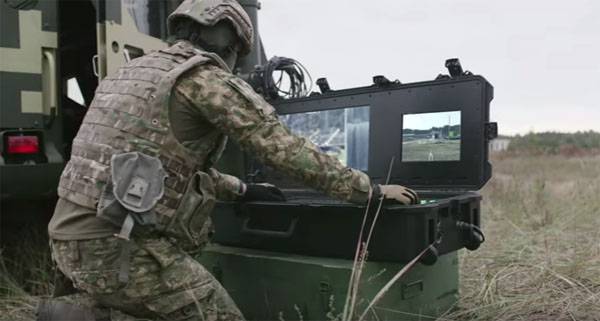 The movie is proudly named "" Phantom "- the warrior of the future."