The State Department announced that the Syrian army is trying to force "to seize" Aleppo
Another pearl was noted by White House spokesman John Kirby. According to him, the Syrian troops are trying to force "to capture Aleppo" with the help of the Russian HVAC. Kirby's statement leads
RIA News
:
What we see in recent days is nothing more than an attempt to seize Aleppo by force. The city is now under siege.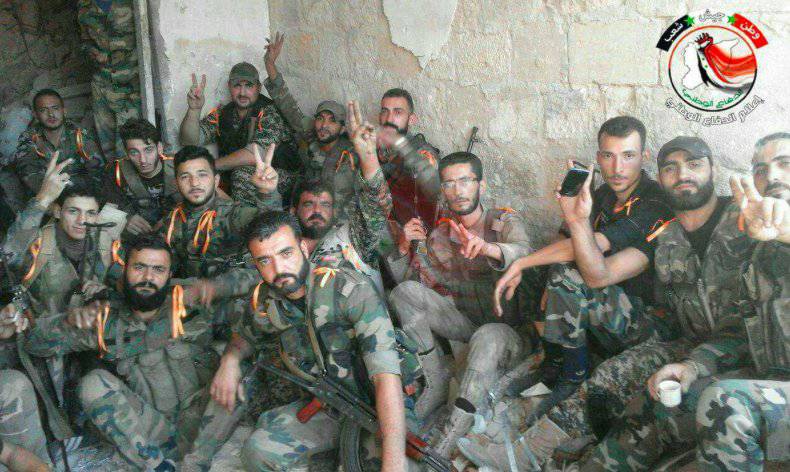 In the photo, a unit of Syrian troops who liberated one of the eastern regions of Aleppo the day before.
This statement is intended, apparently, on that "consumer" who knows nothing about Syria, and even less about the situation in which the largest city in this country is now.
Firstly, the Syrian army does not capture the city, as Mr. Kirby is trying to convince everyone, but releases him. It frees dozens of fighters from militants who, having merged with Dzhebhat an-Nusroy (banned in the Russian Federation), continue to carry out attempts to hide behind civilians as a human shield. Secondly, precisely those neighborhoods occupied by the militants are under siege, and Damascus and Moscow supported the plan of the UN special envoy de Mistura to exit "al-Nusra" from the eastern districts of Aleppo, in order to reduce the risks for civilians. But the West, led by the United States, rejected this idea, once again making it clear that the terrorist groups in Aleppo are exactly what the United States is holding on to, trying to launch Syria in the Libyan scenario.
By the way, why didn't Mr. Kirby comment on the situation with how
weapons
Saudi Arabia destroys the statehood of Yemen, killing dozens, if not hundreds, of civilians every day?
https://twitter.com/CIGRNET