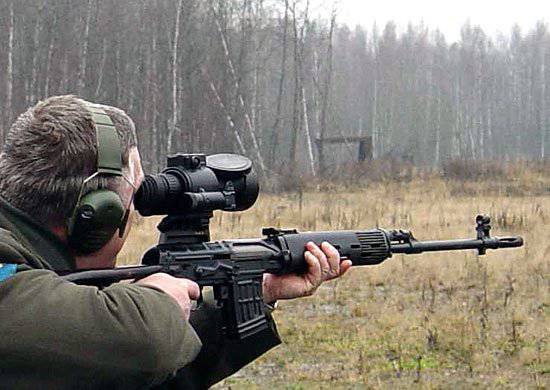 In Pskov, on the basis of the airborne assault division of the Airborne Forces (Airborne Troops), military tests of the Shahin thermal imaging sight, which is based on an uncooled microbolometric matrix, are carried out. "Shahin" is integrated into the automated control system (ACS) by the troops and equipped with a video output, which allows using a helmet-mounted monitor for firing from the shelter.
The electronic processing unit of the thermal sight allows you to introduce ballistics for 7 types
weapons
, and also introduce vertical and horizontal corrections in the course of firing. This allows you to bring a weapon to a normal battle on one type and then use "Shaheen" on other types of weapons. From the shooter, all you need to do is enter the appropriate ballistics electronically.
During the tests at the site with the use of "Shahin", firing of all types of different-sized small arms, which is in service with air assault (parachute) and special units of the Airborne Forces, is conducted.
The tests conducted in the Airborne Forces confirm the high tactical and technical characteristics of the sight, as well as its compliance with the requirements of modern equipment for the Russian Armed Forces personnel.
The implementation of the recommendations received as a result of military trial operation will enable the Airborne Forces, as well as other types and types of the Russian Armed Forces to get a thermal sight that meets modern requirements and is not inferior in its characteristics to world standards.
Thermal sights are the most complex electronic devices and an integral part of modern equipment. Modern equipment "soldiers of the future" are composed of thermal imaging sight.
Thermal imaging technology allows a soldier to see a target in the dark, in smoke or very dense fog. The use of such devices makes it possible to timely detect and identify potential threats, and subsequently destroy the target from a safe distance.
As told to the journalists, Lieutenant-General V.A. Shamanov, commander of the Airborne Forces, in 2012, the troops planned to deliver modern BMD, multipurpose armored personnel carriers, as well as the latest communications equipment, weapon control systems and automated troop control systems at the tactical level.
In addition to equipping the troops with new modern models of military equipment and weapons, in 2012, it is also planned to overhaul and upgrade approximately 10% of the main types of weapons and military equipment of military units and airborne units.
"All deliveries of military equipment and weapons have been agreed with the General Staff of the Armed Forces of Russia and the central military authorities of the Ministry of Defense, which are responsible for purchasing and supplying them to the troops," said the commander of the Airborne Forces.