A few months after the resignation of the Prosecutor General of Ukraine Viktor Shokin, the details of the change of the top of the Ukrainian GP emerge. And these details are published by the American press. So, in the publication
The Atlantic
A material appeared that directly states that US authorities are directly involved in the dismissal of Shokin, namely Vice-President Joe Biden.
It turned out that it was Biden who in fact demanded Poroshenko to change the Prosecutor General of Ukraine, resorting to real blackmail. The vice president of the United States said that if Poroshenko left Shokina at his post, he would not receive financial assistance from the United States.
From the material of the American portal citing Biden:
Petro, you do not get a billion dollars. Well, you can leave the prosecutor. But in this case, understand - we will not finance ...
The publication emphasizes that Biden calls the president of Ukraine in one-on-one conversations "Petro".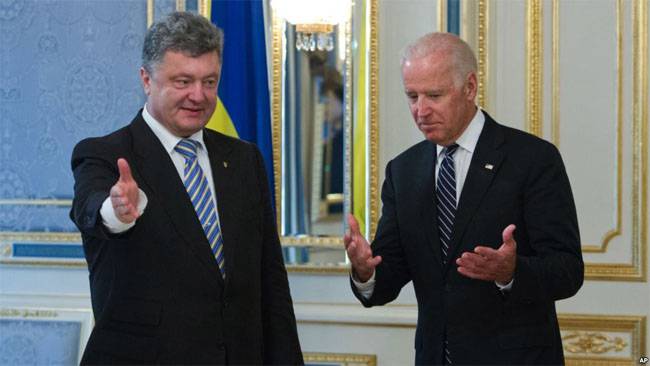 A few days after the conversation with the American owner, Petro Poroshenko signed a decree on the removal from office of Prosecutor General Viktor Shokin (April 2016), the United States provided guarantees for 1 billion dollars. As you know, in this post Shokina replaced Lutsenko, who at one time was prosecuted.
Publication in the American press is one of the proofs that the current Ukraine is under direct American control, and that the proteges of the United States are brought to power in Kiev.