The alarm reports about the people keeping control of the police station building in Erebuni district again come from Yerevan. An armed group that had previously killed a police officer and held police officers hostage, but eventually let them go, went to take new hostages. This time, in the hands of the militants, for whom the "non-systemic opposition" of Armenia is so actively engaged, physicians who came to the police building to inspect the armed people were taken hostage. By the way, demands for urgent arrival of doctors to the seized police building were put forward by the same rally "oppositionists", citing their (demands) that the occupants of the building "can be bad due to the fact that the supply of food and water is limited to them."
And the Armenian authorities decided to respond to these demands. As a result, a medical team led by Dr. Norayr Tevanyan went to inspect the militants. As soon as the doctors were inside the building, the militants who were holding him announced that until the full implementation of their demands, the medical workers would be in the building as new hostages.
Information Service
News.am
reports that among those captured besides Norayr Tevanyan are doctors Salvador Khechoyan, medical assistant David Tonoyan and nurse Malina Margaryan.
The Ministry of Health of Armenia called the incident "unacceptable":
Unacceptable worldwide condemnable phenomenon, when an attempt is made to raise a hand on specialists performing the humanitarian mission.
Armenian medical community perceived
news
indignantly and strongly condemns this immoral step and demands to immediately release the hostage doctors without any conditions. It was not even taken into account the fact that from the beginning of the events the same doctors provided the necessary medical care to members of the armed group.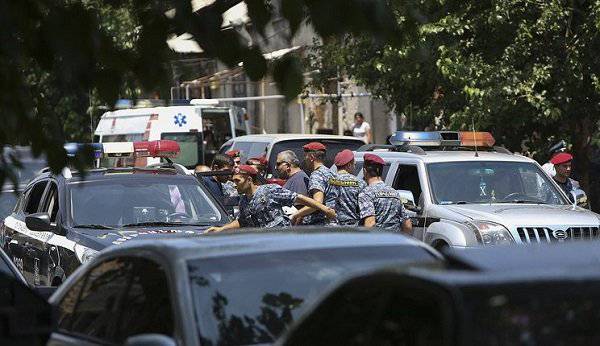 If the opposition of Armenia continues to support those who are ready to take hostage even by employees of medical institutions, then how is this "opposition" different from the extremists themselves?