Specialists of the Department of Search and Rescue Work (UPASR) of the North
fleet
during a special exercise, they conducted a unique operation to lift a steam locomotive located on the Thomas Donaldson transport ship that sunk in the Barents Sea during the Great Patriotic War, reports
press office
Ministry of Defense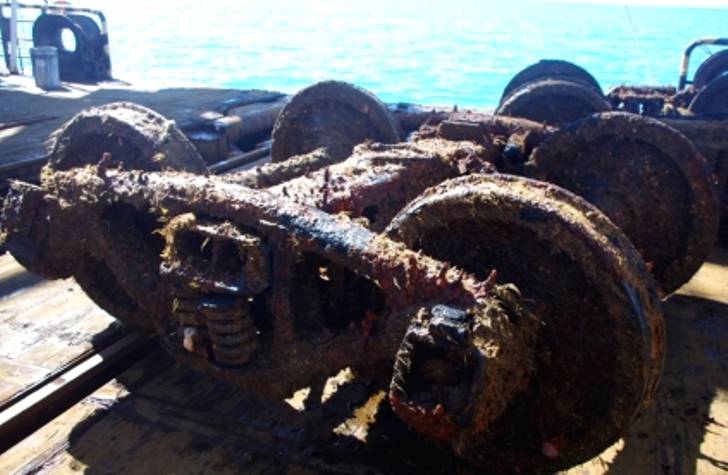 The work was carried out near the island of Kildin.
"This operation was carried out for the first time in
stories
diving underwater technical works. The diving specialists of the UASR SF, as well as the operators of the unmanned remotely controlled submersibles Panther + and Obzor-PRO, were involved in it, "the release said.
It is noted that "the rise of the locomotive was carried out in several stages - first, the boiler part of the locomotive weighing 30 tons was extracted from the vessel's hold, then the undercarriage consisting of five wheelsets with a total weight of about 60 tons."
Particular attention was paid to the safety of divers: "two diving boats with working pressure chambers and a team of medical specialists on board were used at the same time to ensure the descents."
"Work on the survey of the vessel and the lifting of the equipment divers SF are with 2010 year. In the very first year, an engineering vehicle (road roller) was lifted from the bottom and transferred to the exposition of the Krasin icebreaker-museum. In the following years, the Sherman tank, the 90-mm M2 anti-aircraft gun and two more road rollers were removed from the holds of vehicles, "the report says.
In the course of the exercise, in addition, "the American Sherman medium tank, 102-mm gun, anti-aircraft machine gun, as well as a number of small objects like artillery shells and shells were taken to the surface".
The press service noted that "all this equipment and weapons were supplied to the Soviet Union under the lend-lease program from 1941 to 1945 years."
Artifacts raised from the bottom will be transferred to the main base of the Northern Fleet - Severomorsk.