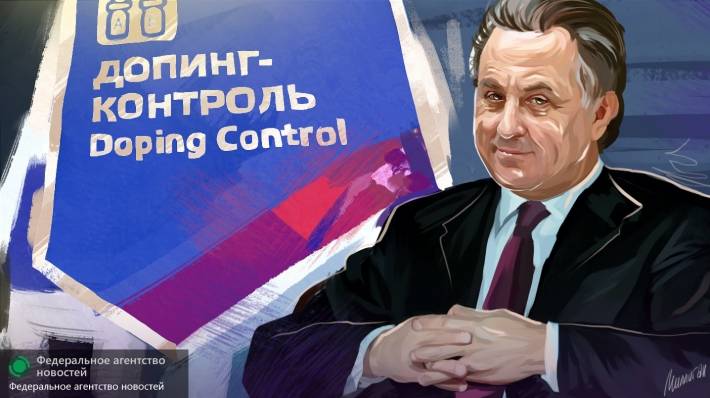 Our TV channels are choking with delight. The Russian team was allowed to the Olympic Games! Imagine? No, do you imagine? The national team of the country, which in the medal standings consistently takes place in the top three (well, well - in the top five) leaders, still allowed to the Olympics! Miracle, miracle. After all, we are all so guilty. And the good uncles of the IOC decided that those who crawled on their knees could indulgently pat their cheek.
Loser - crying
It is said that justice prevailed. What kind of justice is it? Athletes of our country do not go to the Games. Elena Isinbayeva, our star and pride, is not traveling. What justice in this case triumphed for her?
Those people who organized a large-scale campaign against the Russian sport (and in fact against all of us) completely solved all their tasks. They rewrote all the rules. Russia is humiliated and defamed. From now on, any athlete from our country will be viewed with suspicion. Did he really eat a harmless meldonium? The principle of collective responsibility towards our country operates in all its glory. The fact that it has not yet been applied to all, but to athletes, does not mean anything. Down and Out trouble started. In addition, the presumption of innocence has been violated, the principle "retroactively does not apply" has been violated, the rule "has served the sentence - is clean, and all rights have been returned to you".
In fact, for the first time since the end of World War II, a nation appeared on the planet in respect of which everything is permissible: any slander, any lie, any forgery, any insults. It is not necessary to prove anything. Still understandable without it.
People of the West, by the way, are perfectly able to do it. The system is simple. We'll build the ovens first, then apologize. "Oh, we made a mistake, we are no longer like that, we are different." First, crumble a million people in Iraq, and then we admit that this was a mistake. Convenient, yes? Is someone responsible for such mistakes? Not. If there is no flag over the Reichstag, then no one answers. But they say: "We are civilized, we know how to admit that we were wrong." Oh. Did George W. Bush and Tony Blair sit on electric chairs (some fancy ones with wi-fi)? Not. They were given a life sentence? Not. How did they answer for the million killed, for the crippled lives of many millions, for lying with their test tube? Nothing. Because Iraq is a small country, a losing country, the Iraqi flag on the Capitol could not appear in any case. The loser is crying, and the winner is counting profits, yawning, regurgitating and apologizing in a civilized manner. "It's a shame, men, are you offended, or what?" ...
Throttling in the arms
But before the media coverage was different. "Good Iraqis are against the villain Saddam." "Good Libyans are against the villain Gaddafi." "The good Syrians are against the villain Asad." Good ones, though, sometimes cut the heads of children, but these are all tragic mistakes. "Excuse me". Now this scheme is modified. "Angry, aggressive Russians led by their dictator."
On Russia today run in the scheme. For the first time the obstinate country is so great, for the first time it is necessary to break off a nuclear power. Most offensively, of course, that everything seems to have already been done in 1991, and here it is again. Did not follow, missed. But behind it looms China, which is in line. Which is too strong today economically, to approach it with a swoop. And after Asia rises in general: India alone is worth something. And there are Latin American countries. If you give me some weakness with Russia, it looks like the levers will be pulled out of your hands. In the psychology of Western domination, there are no other options for coexistence: either you or you are not given a third.
Therefore, we are systematically crushed on all fronts. You can not refuse the gentlemen: professionals can. Any puncture is corrected quickly; any defeat is wrapped to its own advantage.
History
with the Olympics, at first glance it looks like something new. Because we are talking about sports. If we recall the development of events in Yugoslavia, in the same Iraq, in Libya, then the story of our athletes will not seem to be some of the most outstanding.
Always use the "slow fire" system. Remember how best to cook a frog? Water should be heated slowly so that the victim did not notice. No need to hurry. Abrupt movements (a throw on Tskhinval, a coup in Ukraine) lead to sharp answers. Polite people, planes in Syria - who needs all this? But the bureaucracy is reliable ....
The more monstrous the lie, the sooner it will be believed. The louder the charge, the harder it is to defend.
No, no, that you, no bias. We are impartial. Fulfill our conditions, prove that you are clean. Let our inspectors. Show that you have it here. Open your documents. Take the test. The meeting will be on Wednesday, nothing has been decided yet. No, moved to Thursday. Yes, the decision was not in your favor, but it is not final. It may be revised. No, not revised. But there is still such a commission. Take another test. Collaborate. We want you to be good. We sympathize with you, but rules are rules. Bend down, remove the panties. Relax.
You will never be released, no. You will be whispered: "What do you want, do you want to isolate yourself?" No, no, we do not drive you out of the PACE, just temporarily deprived of the right to vote. Prove that you deserve it (and pay contributions). No, that you, you do not outcast. We want a dialogue.
The recent NATO exercises were called "Anaconda". The principle of strangulation in the arms has not been canceled ....
On sober head
What does this lead to? Yes, our team will go to Rio. Castrated and humiliated team. What is the medal standings, if there are no major participants in the summer games - athletes. In other words, Russia was, no one drove it away, but it came out somehow. Russia's participation legitimizes the Games themselves - on the one hand. On the other - gives the opportunity to continue their endless bullying.
And what do we hear from the screens now? "Why are you poisoning Klishin, she's not to blame for being allowed to do it!" "We will understand if individual athletes change citizenship in such conditions." "Russia must create additional conditions for athletes to earn money."
Well guys. When the conversation comes in these tones, then to talk specifically already and not what. Run, change citizenship, what ....
The world - in addition to everything - saw that all our Russian sport (in terms of sports ethics) is zero. Not a single athlete personally refused to go to the Olympiad in solidarity with the athletes. No one! Scary somehow.
Here the real gentlemen do not go to the Olympics because of the virus. They appreciate themselves, gentlemen. They spat on the international Olympic movement. Take an example from them. They are rich, they love their rich life.
... Boris Yeltsin, who conducted the orchestra and irrigated the wheel of the plane, had one excuse, which is still acknowledged in our country with a creak. He, you see, drank. The country was blushing for him, but he had at least such an excuse. The officials who are frowning before the inexorable structures of "civilization", alas, do not have this justification. They are sports, they do not drink. Sober as glass. Our national dignity is humiliated in a sober mind and solid memory. With what they probably can congratulate. ...