Nizhny Novgorod Volga plant after successfully passing state tests passed to Russian
the fleet
experimental vessel "Viktor Cherokov" (project 20360OS), the blog reports
bmpd
.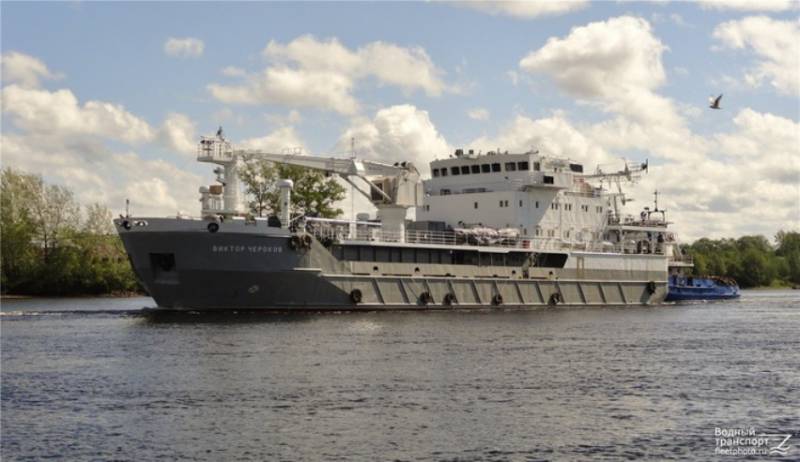 According to the blog, "the vessel will be part of the Baltic Fleet and will be used to test the mine and torpedo weapons and means of hydro-acoustic suppression."
It is reported that initially "the vessel was laid in 2007 g at Okskaya Shipyard" OJSC (Navashino, Nizhny Novgorod region) for the Russian Navy as the second floating loader crane of discharge cargo (armament transport) of the 20360 project (code Dubnyak) with 1802 serial number ".
The head loader crane was transferred to the fleet on the 2010 with one year delay. During its operation, a number of errors made by designers were identified. Therefore, the construction of the second ship ("Victor Cherokov") was suspended in the same year.
"In 2013, the decision was made to complete the construction of the ship at the Volga shipyard in Nizhny Novgorod as an experimental vessel on the revised 20360OS project. In 2013, Vympel Design Bureau developed a technical design, in 2014, the working design documentation. The completion of the vessel, dubbed "Viktor Cherokov" and transferred to Nizhny Novgorod, was resumed in 2015, the ship was re-launched in December 2015 and transferred to tests in May 2016, "the article says.
The displacement of Cherokov is 2000 tons, its length - 61.5 m, width - 15.8 m, draft - 3.5 m, maximum speed - 10 knots.