Another statement, outraged the Ukrainian radicals, was noted by the People's Deputy of Verkhovna Rada Nadezhda Savchenko, pardoned not so long ago by Russian President Vladimir Putin. On air
"5 channel"
owned by President of Ukraine Petro Poroshenko, Savchenko said that it is necessary to apologize to the residents of Donbass. The statement sounded very sensible, given that in the Ukraine Maidan any resident of Donbass is actually considered to be the enemy.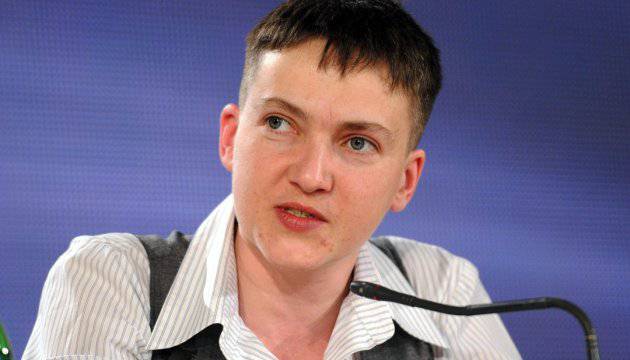 Nadezhda Savchenko:
We may have to do this (to apologize to the residents of Donbass). Not possible, but for sure ... We must learn to ask for forgiveness and forgive, otherwise there will be no peace.
According to Savchenko, she understands the mothers of Donbass, who lost their children during the fighting.
Recall that a few days earlier, Nadezhda Savchenko said that Kiev must fulfill its obligations under the Minsk agreements and amnesty Donbas militias. At the same time, the people's deputy of the Verkhovna Rada of Ukraine called the militia "bad guys with whom you can learn to talk."
It is also known that Savchenko offers herself as a Ukrainian representative to establish a dialogue with the leaders of the DPR and the LPR Alexander Zakharchenko and Igor Plotnitsky.
All these statements Savchenko excite the Ukrainian radicals, who are no longer ready to expose her with his "icon".