The old American frigate Fetch, which was set as a target on the RIMPAC-2016 maneuvers, showed "amazing survivability" - he resisted 12 hours of trying to sink it with missiles, bombs and torpedoes, reports
Rossiyskaya Gazeta
.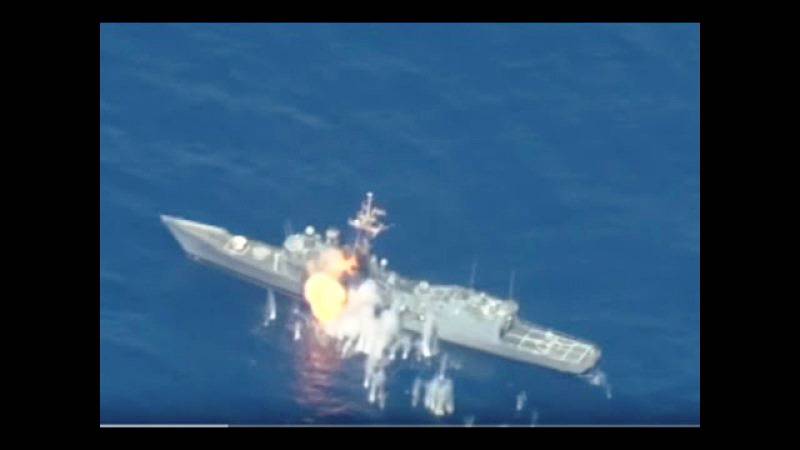 "At first, the ships and helicopters attacked the frigate with rockets - a total of Fetch had seven shots fired. Then the planes dropped on his laser-guided bombs. After each raid the ship was carefully examined, fixing the damage. There were gaps in the sides and superstructure, the helipad at the stern was torn apart by an internal explosion, "the newspaper commented on the video.
The RIMPAC exercise runs from July 30 to August 4 near the southern coast of California and around the Hawaiian Islands. It employs about 45 ships, 5-submarines and about 200 airplanes and helicopters.
The exercises from the international waters are monitored by the Russian ships Admiral Vinogradov and the Baltic States.
Help newspaper:
"The USN Thach 138-meter frigate (FFG-43) was launched in the 1979 year and assigned to the naval base in San Diego, where he served the 34 of the year. The ship was armed with harpoon anti-ship missiles, 324-millimeter torpedo tubes and carried two anti-submarine helicopters. They named the frigate in honor of Admiral John Fetch, a naval pilot of the Second World War, the inventor of tactics against Japanese fighters and kamikazes. "