In just one month, military personnel of the road service of the Western Military District completed the guidance of the 200-meter collapsible bridge across the Unzhu River in the Makaryevsky district of the Kostroma region, reports
Rossiyskaya Gazeta
, with reference to the press service of the regional administration.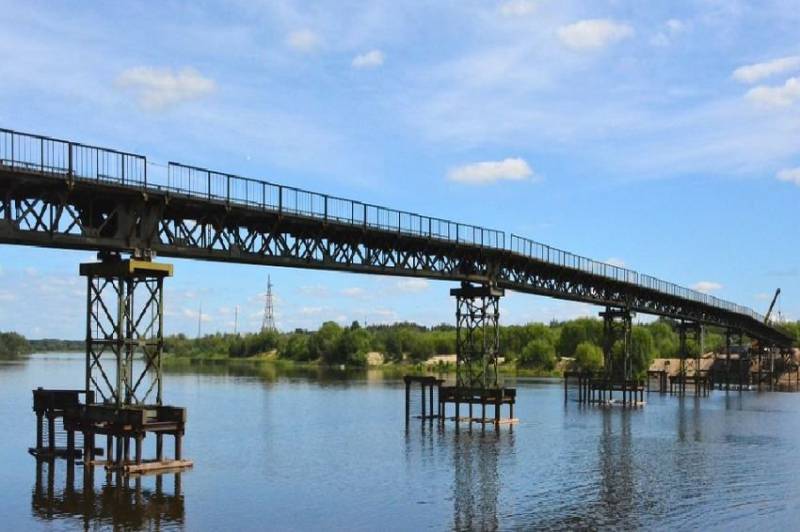 "Residents of Makarievsky district living on the banks of the river Unzhi, for several years appealed to the district and regional authorities with a request to build a bridge. In winter, contact with the outside world was provided by the ice road, in the summer people were transported by boat. However, in the spring and autumn, during the period of mudslides, the lack of a bridge left people practically without contact with the "mainland", the newspaper writes.
The problem was helped to solve the contract concluded by the regional administration with the Ministry of Defense.
It is reported that the bridge battalion arrived for the construction of the bridge 17 June. "The construction involved 15 units of specialized equipment, 63 military. The lion's share of time was spent on surveys, topographic study of the area, pile driving and erection of supports. The installation of the bridge construction lasted only three days, "the administration said.
According to the experts, "the new bridge has been made conscientiously: it does not fear flooding and harsh winter conditions, since the project has been developed taking into account the natural features of the flow of the river in this place".
The head of the Kostroma region Sergey Sitnikov:
"Thanks to the help of the Ministry of Defense, today we received a reliable crossing. Just a month ago, the bridge battalion was transferred to the shore of Unzhi. In record time, a dream, a fairy tale, in which the residents of the left bank are already desperate to believe, became a reality. Month of intense, everyday work of military builders, 224 crossing meter. Military accuracy allowed to perform the task as soon as possible. All military personnel worked professionally, clearly and thoughtfully. "
It is noted that "in gratitude for the work, each builder received a watch as a gift."
Now the roadway is being laid to the bridge, and the coastline is being strengthened. The opening of the bridge is scheduled for mid-August.