When the US authorities declare that they do not wish to follow the path of renewing the Cold War, their thoughts are interesting that the so-called "week of enslaved peoples" is still celebrated in the United States every year. If one of the readers thinks that in the American case, this is about the enslaved indigenous people of North America, as well as the enslaved black people, then he is deeply mistaken.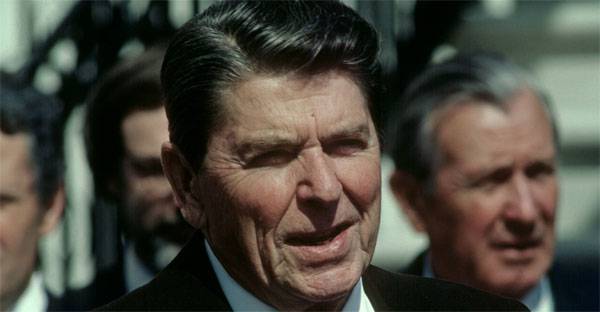 Ronald Reagan actively promoted the idea of ​​"liberating enslaved peoples in the USSR"
Based on a law signed by US President Dwight Eisenhower, the "week of enslaved nations" appeared in the American calendar in 1959. And for 6 years before, the term was used by the president of the so-called Ukrainian Congress Committee of the United States, Lev Dobriansky. He presented a list of "enslaved peoples":
the peoples of all the republics of the USSR, as well as Albania, Hungary, Poland, Romania, other countries of the socialist camp, North Korea, North Vietnam, Turkestan, Tibet, China, as well as Idel-Ural and Cossacks.
The document said that all these peoples "were enslaved by the communist authorities of Moscow and demanded assistance in liberation." It is well known what the American attempt to "liberate the enslaved peoples of North Vietnam" resulted in ...
Back in the days when the American miracle document was created, experts saw in it a practically exact copy of a document born in Nazi Germany. It was there that the ideologists of Nazism, trying to pick up arguments for the invasion of the USSR, developed a "plan for the liberation of the peoples of the Cossacks and Idel-Ural". What this attempt resulted in is also well known.
Why did we decide to recall this now? The fact is that in the western edition
The daily signal
material has appeared in which Washington is called upon to pay special attention to the "week of enslaved peoples in countries such as Russia and China." The material is replete with terms such as "communism is a cancer", "revanchist sentiments of Moscow", "KGB officer Putin", "China's gain".
At the same time, for understandable reasons, the article does not say a word about the conditions under which the indigenous peoples of America live, but how the US built its empire on the bones of blacks, millions exported from Africa, and how the US enslaved dozens of other nations on Earth, today playing the role of Washington's vassalage.
Conclusion: Gentlemen from The Daily
Signal
, respond to
signal
and look at yourself in the mirror. Real reservations and racial hatred - where is it now? - in the Russian Federation, the People's Republic of China or all the same in the USA? ..