On Saturday, the Ukrainian ambassador to Brazil was handed a note about the denunciation of the long-term cooperation agreement on the creation of the Cyclone-4 launch vehicle, reports
UNIAN
.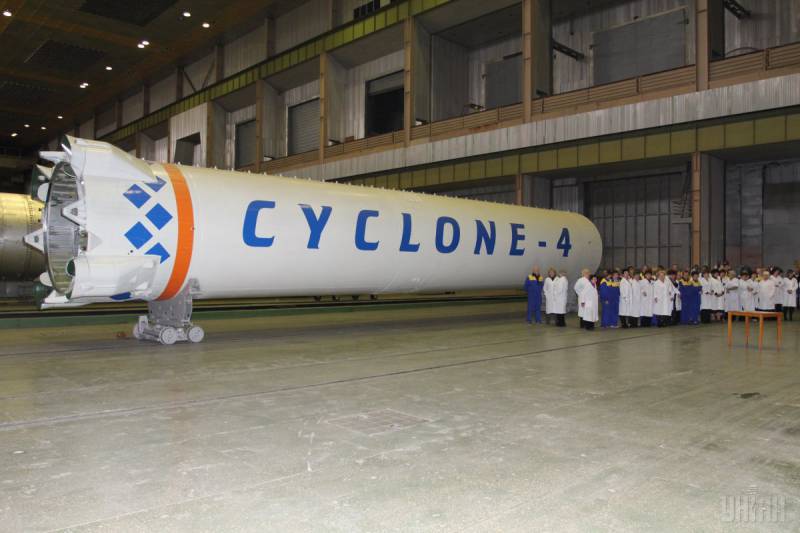 "The losses of Ukraine in the event of Brazil's withdrawal from the joint production project of the Cyclone-4 launch vehicle can amount to 805 million dollars," the agency reports the Ukrainian Yuzhnoye Design Bureau.
Until 16 in July, Kiev should have sent its reasoned objections to the Brazilian side, but so far no steps have been taken to preserve the agreement.
"In the absence of such (objections), the Brazilian side has the full right to draw up a document that will declare the agreement to be finally terminated, which, in our opinion, will create additional difficulties to protect the rights and interests of the Ukrainian side," the release said.
"According to the available information, as of 16 July 2016, no actions were taken by the HCA of Ukraine regarding the fulfillment of the functions stipulated by the contract and the protection of Ukraine's interests," the CB noted.
"According to the provisions of the convention (the Vienna Convention on the Law of Treaties), the absence of a direct objection until the termination of the contract greatly complicates further protection of the rights and interests of Ukraine and may make it impossible to compensate for the damage suffered by the Ukrainian side in connection with the termination of an international treaty," the press said to service.
The publication reminds that at the end of May "the head of the State Space Agency of Ukraine Lyubomir Sabadosh said that Ukraine is ready in an international court to demand compensation from Brazil for unilaterally terminating the Cyclone-4 launch vehicle production program".
The agency's reference: "Cyclone-4" is a joint project with Brazil of the Ukrainian space rocket complex, which should have included a launch vehicle and a ground-based complex, ensuring the preparation and launch of the launch vehicle and payload at the cosmodrome. The rocket launch was planned from the Alcantara cosmodrome (Brazil), but the rocket launch was repeatedly postponed. First, it was scheduled for 2010 year, later transferred to 2013, then to 2014. In May, 2015, the head of the State Space Agency of Ukraine, announced that Brazil had frozen the work on the project. "