Armenian information resources report on events taking place in the Erebuni metropolitan area. Reports say that a group of armed men seized the police building and internal troops. During the seizure, one person died, at least two were injured. According to the latest data, armed men hold high-ranking officers of the Armenian law enforcement agencies hostage - in particular, Valeriy Osipyan, who is deputy head of the Yerevan police.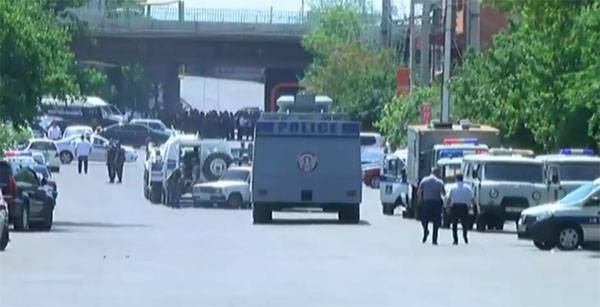 To the captured building forces of the police and army special forces were pulled together. It is reported about the demands of those who carried out the seizure - they demand the release of one of the leaders of the "irreconcilable opposition" Zhirayr Sefilyan from custody. Sefilyan coordinates the work of the so-called "Constituent Parliament" - a structure that positions itself as an alternative authority of Armenia.
According to the investigation, representatives of the "Constituent Parliament" were planning to seize administrative buildings under the coordination of the person mentioned. Law enforcement officers found the "irreconcilable opposition" plan to take control of the Yerevan television center.
According to police, with the seized the police building negotiations are under way. In the area of ​​the incident a lot of military and police equipment. Residents of nearby houses and employees of various organizations and companies were evacuated.
In the National Security Service of Armenia, they are asking representatives of the media to avoid interpretations in the style of "attempted coup d'etat". According to the official representative of the National Security Service, "the situation in Erebuni is under control, efforts are being made to resolve (conflict)."