After the Verkhovna Rada of Ukraine announced the renaming of Kirovograd to Kropyvnytskyi (after the name of the comedian actor Mark Kropyvnytskyi), mass protests began in the city. Today, about 500 people came to the city center with calls to either refuse to rename the city or give the city a different name (not Kropyvnytsky). It is noteworthy that in the hands of those gathered it is possible to see tablets with calls to give it to the city
historical
the name is Elisavetgrad, which fully fits into the concept of the so-called "decommunization", because it is difficult for Empress Elizabeth to be convicted of communist views ...
Protesters against renaming the city demanded a meeting with local authorities, who did not take into account the opinions of citizens. To the protesters came the mayor Andrei Raikovich, who said that people should disperse and accept what happened.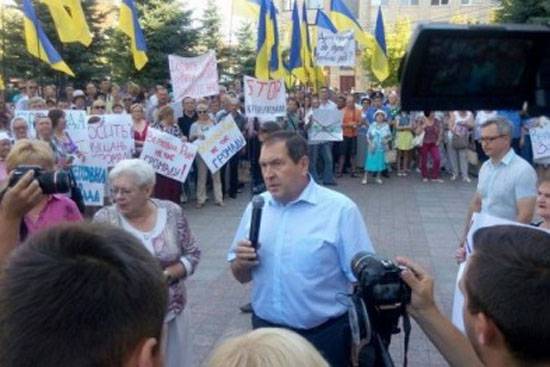 Urban
portal
Kirovograd cites the words of the mayor:
Dear Kirovograd citizens. Today I urge the citizens who are gathered here for calm, prudence, wisdom. I am deeply convinced that we can legally solve all problems. We will do everything so that people live in peace and tranquility. I support all the people who live in our city and have the right to defend their point of view, but at the same time we need to maintain peace and tranquility. What happened happened!
The protesters said they would go to court.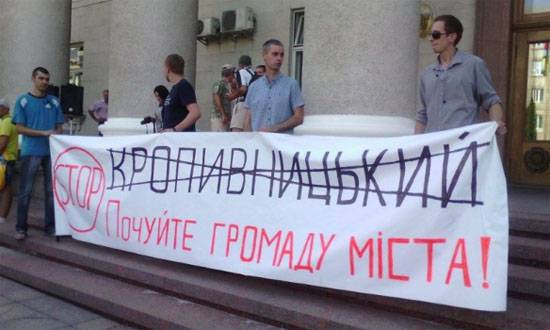 Some time after the appearance of opponents of renaming to Kropyvnytskyi in the center of Kirovograd, supporters of the decision of the Verkhovna Rada began to converge. Supporters shouted threats to opponents of the renaming and said that the people's deputies made the right move, as the name of Mark Kropyvnytskyi tells Ukrainians about their origins. Between the two groups of people stood the local law enforcement officers. This is reported by the TV channel
112 Ukraine
.
Meanwhile, the Ukrainian sociological monitoring services publish surveys of the population of Ukraine, in which they were asked to answer the question of who Mark Kropyvnytsky was, in whose honor the Rada renamed Kirovograd. The correct answer is given by no more than 8% of respondents. Over 40% believe that this is some kind of political figure since the UPR. Around 10% suggested that Kropyvnytskyi is one of the "heavenly hundreds". More than a quarter simply found it difficult to answer.