One of the most inspired by the passage of the NATO summit in Warsaw looks like the President of Ukraine. Still would! For Poroshenko, the Warsaw site is another opportunity to recall the existence of Ukraine and ask for financial assistance. Before his trip to the capital of Poland, Poroshenko announced that NATO-Ukraine cooperation was mutually beneficial. According to Poroshenko, for NATO, Ukraine can be interesting, already because "no country in the North Atlantic Alliance has such experience in conducting combat operations against the Russian army." Such a statement by the President of Ukraine is published by the American edition.
The Wall Street Journal
.
At the same time, Poroshenko for some reason did not say how it turns out that the Ukrainian authorities, with all its "extensive experience in conducting military operations against the Russian army," still did not recognize the events in the Donbass as a war with Russia. He didn't tell how, given the presence of "extensive experience in conducting combat operations against the Russian army," Ukrainian business feels quite free in Russia, including the notorious chocolate giants' factories ... Apparently, he understood that if we began to cover this topic , then the money just will not give. And if there are only "right" journalists at the NATO summit, there are no hard questions to expect regarding Poroshenko and the functionaries of the military bloc itself.
It should be noted that before the start of the NATO summit in Warsaw, Poroshenko met with Turkish President Erdogan.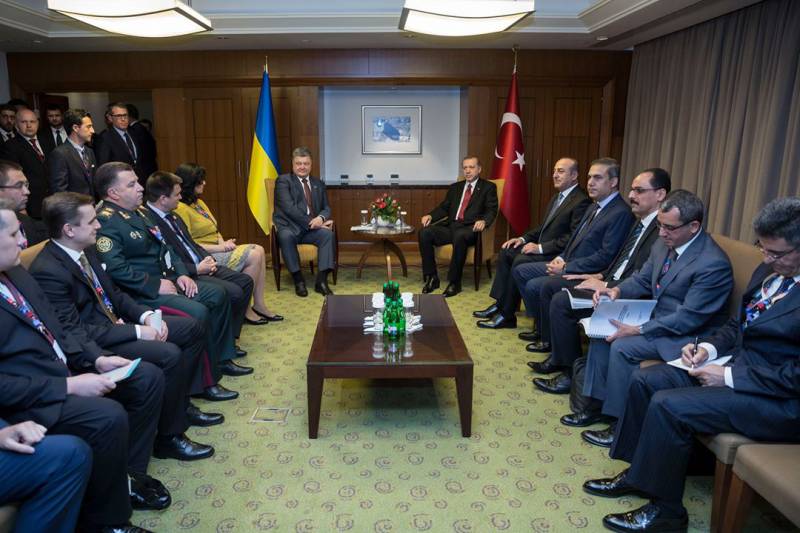 On your page in
Facebook
The President of Ukraine writes that during the meeting "agreements were reached on strengthening regional security and strengthening economic cooperation." Recall that earlier Ankara and Kiev (before the "apologies" of Erdogan, presented by the Kremlin press service) discussed the issues of "containing Russia on the Black Sea".
Now Poroshenko thanks Erdogan "for supporting the sovereignty and territorial integrity of Ukraine and condemning the persecution of the Crimean Tatars in the occupied Crimea."
Recall that last week the community of the Crimean Tatars sent a letter to Erdogan with a proposal to recognize the results of the referendum in the Crimea of ​​March 2014 of the year.