Stupid question, frankly and honestly. Motherland, in particular, Russia, can not be loved. By definition. And as the Russian soul, for our country is such ... As I sang in the song, "I don't know another such country ..." It's kind and beautiful. Although there are disadvantages.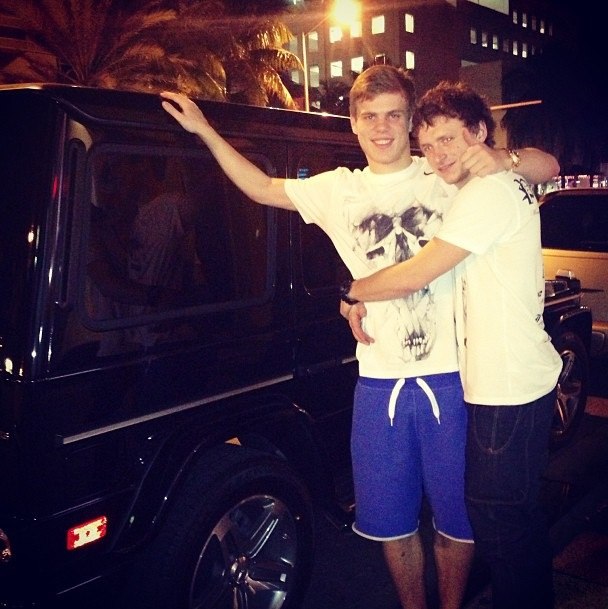 In general, each person, if he is a patriot, must love his homeland. This applies to all: Germans, Bulgarians, Kazakhs, Russians, Icelanders and Greenlanders. All
But how can one measure the degree of love and the level of this very patriotism?
For example, I decided to take our beloved and beloved footballers who do not spare their health for the good ... Right here, stop, as far as wealth and patriotism are concerned, we must take a closer look.
Here are the gentlemen Kokorin and Mamaev. Members (wrong word, not applicable to them in fact) national team of our country. What they glorified themselves? If you believe the video that was published by LifeNews, immediately after the next victorious participation of our football squad, they went to rest and celebrate the victory.
It is clear that it is not in Valuyki or Shishkin Les, not to the homeland. We went to Monte Carlo, where in the tavern of "Tvig" under the Russian national anthem, we had a nice feast on board, treating everyone present with champagne. According to 500, there is a euro for a bottle, and there were a lot of bottles.
Handsome, what can I say. Well, and the wife-girlfriend did not lag behind in terms of dancing on the sofas and tables. They showed everyone how Russians can celebrate victory.
Ah, there was no victory? Well, lucky owners of cafes. Otherwise, in the morning only the ruins would remain.
And the question is: do these Russians, if I may say so, love their own country? The answer is definitely positive. Of course they do. After all, in no country in the world will two people be able to put enough money for two crook-legged, mediocre disabled people from football so that they can fly to the Cote d'Azur and have a rest.
Not a single one. In all civilized countries of the world (and not really) it is customary to live for a salary. Wages, that is, the money that a person earned. And only Russian football players live on pay. That is, the money that they receive for doing nothing.
For it is impossible to call work slow and meaningless movement for a limited time over a limited area. But the pay for it, oddly enough, follows. And not bad, obviously.
Meanwhile, this cancer, proudly referred to as domestic football, eats more and more money from year to year. And the results are getting worse and worse. All as it should be in cancer.
And such incidents are not uncommon. And this is also an example of a "successful life" for our young people. You do not need to be able to. It is necessary to fuss and shove a face in the TV. You do not need to be able to write and sing to become a star. You do not need to be able to play football to allow yourself millions of sprees.
And what touches it is with what fury these Kalichis rushed to defend their salaries when several years ago they tried to prizhuchit. How is it, on the holy encroached, on the pay ...
"There is no money, but you hold on there."
Yes, Dmitry Anatolyevich, we hold on to it. And we will hold on. What and you wish, Mr. Prime Minister.
But our dear Mr. Medvedev, the money is what they are! You just need to reach out and take them. And not for me to tell you how this is done. Enter the tax on patriotism from representatives of the caste "successful".
Here, two members of the organized criminal group of a fraudulent nature, by chance called the "national football team", shocked 250 thousand euros and fell for it. So, recover from them on 250 thousands. With everyone. For example, once the number of light. How many members do we have in this grouping? 20? Apply the calculator: 20 x 250 000 x 70 = 350 000 000. Three hundred fifty million rubles.
Sorry, if this dead nag, called the national team, will bring 350 millions to the budget - why not to love such athletes?
Lost "Euro" - pay. You lose the World Cup (and I have no doubt that the result will be just as shameful) - pay. And so there is no chance to refuse. Got to the national team - it means "hit". Or you play as a person, or you pay.
And with Mutko and his gangs - at least 500 thousand euros. Well, with Mutko can be a million. And from all the vice-presidents, general directors, deputies and other labuda around the football team - in half. And with the executive committee, too, by half.
That would be fair and democratic.
Maybe then we will still have a national football team, and not extortion? And these poor will not think about where they would attach money for their supergame, but how to play?
Because the way our dear (in the literal sense) football players play, they should have the right to drink and drive to "work" on public transport once a month. But in our country, the opposite is true. So how can you not adore her like these ... athletes?
And we are nothing, we will hold out. We are mostly patriots. And survive-overpower much. Including the eternal whining in the press of our parodies of football players on the topic of how little they are paid and how they are not loved. And if there was more money, they would just tear everyone away.
But it seems to me that the theme "need more gold" is no longer relevant. And so there is no place higher. Need to change something. Namely, the entire tip of our RFU, because there, obviously, everything rotted completely, and clean the tail. By chopping off the head.
And I will add to the issue of patriotism and love for my country. I wonder what moves Datsyuk, Ovechkin, Bobrovsky and our others who play in the NHL? Why do they fly to the collection and play at the first call? Are they paid more? Come on ... I will not believe. I do not believe that Ovechkin can be interested in money, he has it and so ... Apparently, the matter is different.
The fact is that you really need to change something in the approach itself. Because, even if you buy Guardiola or Mauriño for the post of coach of these nagged nags, the cart of the Russian national team "will not take off."
It's not even a matter of money, the place is clearly damned.
I was hoping that the repetition of the shame of Vancouver will not see again. In vain. Saw, albeit not on such a global scale. All saw. Appreciated.
And there is only one way out: cancerous tumors must be surgically removed. By ... And what's the difference, by the way, is the governor-thief, who stuffs his pocket from the budget or the thief-player, for whom both budget money and sponsorship money are spent?
Confiscations, fines and confiscations again. And then they will all not just adore their country gently and tenderly, but also be killed for its honor and prosperity.
Apparently, in Russia it is the only way.
In the meantime, everything is as it goes, we will be doomed and continue to enjoy the video of the drunks of our "expensive" of all stripes. To the sounds of the Russian anthem.