Western countries include a regime of anti-Russian sanctions very selectively and even inventively. This is evidenced by trade statistics. Overseas territories of Great Britain, the United States, France and other ardent supporters of the non-recognition of the Crimea are simply beyond sanctions. The supply of high-tech products from these autonomies to Russia can be envied by many states.
.
Western high-tech imports into our country began to grow from the beginning of the 80s, although the USSR was already under "Afghan sanctions" imposed by the NATO countries and some of those who joined them were independent. And then territories with autonomous foreign economic legislation were used as trade channels. By the way, the same contractors entered the game in 1956 after Hungary, and in 1968 after Czechoslovakia ...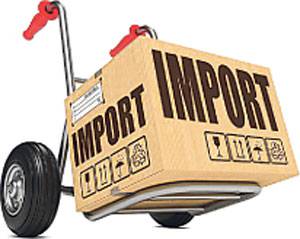 The policy of increasing purchases of high-tech products in the West was adopted by the Soviet political leadership. It is not surprising that today the country's dependence on supplies from foreign countries of machinery, equipment, electronic components and tools in most industries is 60 or more percent, or even goes off scale for 80. As a result, personnel and development were lost, scientific schools were destroyed. But already in the middle of 80-x in the country there was a mass of companies that promoted and even imposed import equipment, components, spare parts of any quality. And with preferential terms of delivery, payment, repair. For the most part, these were joint Soviet-bourgeois enterprises.
That is, from the middle of 80-x we did not develop our own technologies and did not adopt foreign ones, which, for example, from the beginning of 70-x (even during Mao) China was engaged in, and stupidly imported the finished product, thereby meaninglessly domestic production and introduction of advanced developments. Many domestic high-tech projects, in particular in the chemical and textile industries, waste-free production, were sent to the archives. Or exported.
The current Western sanctions, too, are not going to lose the huge Russian market, where you can sell goods and services of any quality. Therefore, any ways are used to continue the export. And these attempts, apparently, find high support in Russia. Domestic experts have long offered to conduct a thorough inventory of the technological imports we have already received and the products manufactured on its basis. But all such proposals that year marinate.
Meanwhile, Western autonomies in 2014 – 2016 have become exporters of a wide variety of high-tech products to Russia. At least 80 percent is the metropolis products. Through the same territories, Russian bans on the import of western foodstuffs cost.
Say, from the British Cayman Islands (that between Jamaica and Cuba) in the first quarter of this year, "ferrous metals" (product group 73) came to our country for almost 100 thousand dollars. Note: the enterprises existing in a quasi-state are engaged in processing fish and fruit, cooking salt, among them there is not a single large one. From the British Gibraltar in 2014 and 2015-m "nuclear reactors, boilers, equipment and mechanical devices, their parts" (product group 84) were imported to Russia to a large extent. The range of goods imported from the British Virgin Islands is quite wide and significant in terms of payment. Imports from the large Caribbean island of Puerto Rico, associated with the United States, are particularly impressive. For example, in the first quarter of 2016, these are both "nuclear reactors" and various "tools and devices" (90 product group) for almost two million dollars. But this is a trifle compared to pharmaceutical products. Puerto Rico delivered medicines to Russia for more than 21,4 million dollars.
The diverse nomenclature is exported to our country by French Guiana. In 2015, the list included "aluminum and its products" (76 product group) for 300 thousand dollars, ferrous metal products, chemical products.
A very characteristic detail: all overseas territories of Western countries (fragments of colonial empires) used to re-export high-tech products to Russia are not part of the WTO and are not associated with this organization. They have the right to conduct "their" trade, bypassing any prohibitions and restrictions. Well, the foresight of Western metropolises is worth exploring ...
For product penetration into Russia, countries participating in free trade zones with the Russian Federation are also used. So, in 2015, the import of "nuclear reactors ..." from South Ossetia to the Russian Federation exceeded 340 thousands of dollars.
On the one hand, import substitution in a short time after decades of technological dependence is impossible, therefore it is easy to understand the domestic consumers of such products. On the other hand, such supplies cannot help holding back Russia in the development of high-tech industries, which is what Western exporters are trying to achieve.