On the eve of the militants of the so-called "Islamic State" attempted to attack the position of the Syrian government army in the height of Jabel Tardeh in the province of Deir ez-Zor. Militants tried to immediately take the height and knock out the Syrian soldiers. By the forces of the 137 artillery brigade of the SAR forces, the militants were driven back. Moreover, the Syrian army made efforts to consolidate the success on this sector of the front.
According to the information resource
AMN
, the militant groups were forced to retreat south-west - in the area of ​​the Taiim valley.
The height area of ​​Jabel-Tardeh is a strategically important site that the Igylovists are trying unsuccessfully to master. The height allows you to control the approaches to the airfield, located in the administrative center of the province of Deir-ez-Zor.
In addition to the successful counterattack on the positions of ISIL in Deir-ez-Zor, other successes of the Syrian government army have become known. Thus, in the province of Daraa, detachments of the SAR army liberated agricultural territories from militants of the Ahrar al-Sham group. The map, published by AMN, shows that the Syrian army managed to cut the group into two components that fall into the firing rings.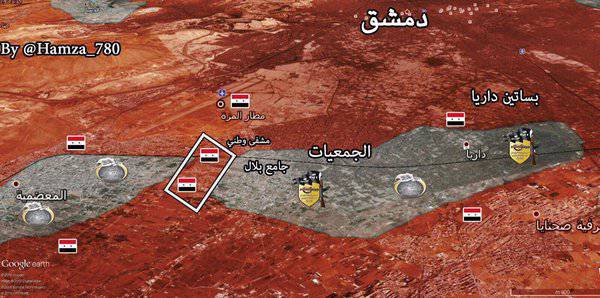 The command of the armed forces of the SAR is working to adjust the plan of action of the army in Daraa for the destruction of the terrorists in the two fire rings.