A remarkable event kicked off today at the Ryazan Higher Education Advanced Training Center. We are talking about training maneuvers in the framework of the program "Depth-2016". By
communication
The directorate of the press service and information of the main defense department of the country in the village of Seltsy, where the training center is located, is conducted with the participation of specialists-divers from the military university. The events are called diving all-round, and they are occupied by military personnel who perform the tasks of diving scouts, divers-explosives (both miners and sappers), divers-welders and carvers.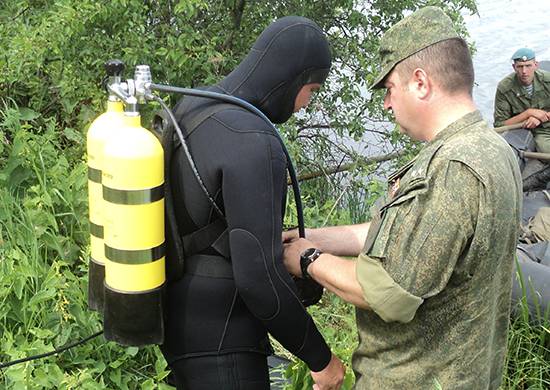 All training activities are held in natural waters, which allows you to work out skills with the conditions for taking into account weather conditions, turbidity of water, natural camouflage.
In the program of competitions there is even an underwater battle with a conditional opponent.
From the report:
Special qualifications from paratroopers judges will require in the course of their application of the skills of underwater hand-to-hand combat and underwater orientation at different depths in standing and flowing water. All stages of paratroopers competitions are carried out using special means and diving equipment at depths up to 5 meters in conditions close to combat.

In addition to underwater tasks, paratroopers will have to overcome a combined obstacle course, deploy a diving station on the basis of a mobile recompression diving station of a mobile autonomous barocomplex, and provide first aid to conditionally affected divers.
The material describes the equipment used:
At the first stage, paratrooper divers will use hose diving equipment with a hard helmet and bots, working according to an open or ventilated breathing pattern.

At the second stage, divers using autonomous equipment for swimming in flippers with breathing apparatus operating in an open or semi-closed (closed) breathing pattern will receive an assessment. A feature of this stage will be the lack of diving equipment by the military personnel using artificial breathing gas mixtures.
The training activities under the Depth-2016 program will end on June 29.