The grouping of ships of the US Navy began exercises "to work out the actions in the contested territorial waters." We are talking about military maneuvers near the coast of the Philippines. Aircraft carriers involved in the exercise
USS John C. Stennis
и
USS Ronald Reagan
. The US Department of Defense said that the maneuvers are held in connection with "putting pressure on Manila from Beijing in the South China Sea." At the same time, the Americans did not dare to conduct exercises in the South China Sea itself, starting maneuvers in the waters of the Philippine Sea.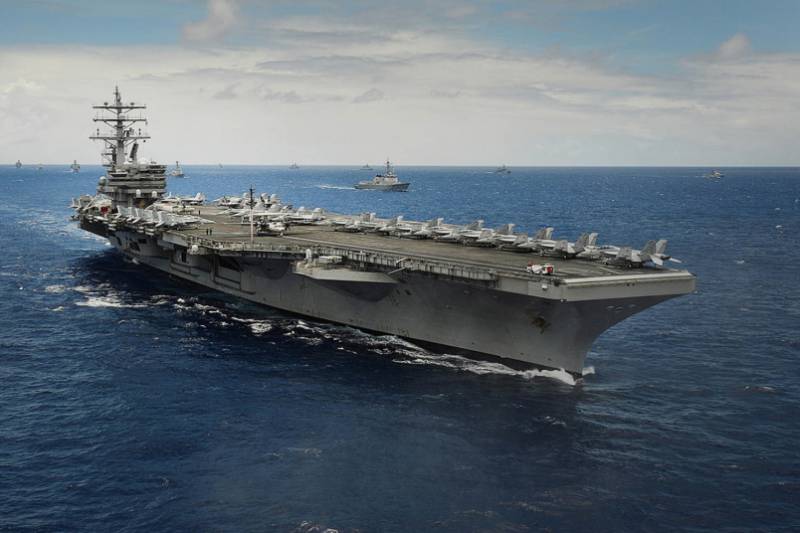 Informational portal
DefenseNews
cites a statement by Rear Admiral Mark Hitchcock, a representative of the US Navy Command, who commented on the concentration of forces off the coast of the Philippines:
No other fleet can concentrate so much combat power in one sea (...) This is really impressive.
We are talking about the involvement in the course of naval maneuvers over 12 thousands of troops, six aircraft, the two aircraft carriers mentioned, several auxiliary ships.
The commander of one of the American groups involved in the maneuvers, John Alexander, said that the main purpose of the exercises is related to the training of combat interaction in a "disputed environment." The disputed environment, the American admirals, apparently, called the archipelagoes in the South China Sea, claimed by several states of the region, including China and the Philippines. At the same time, statements about "Beijing's pressure on Manila" indicate who large-scale maneuvers are directed against. Their main focus is anti-Chinese.
The Defense Ministry of the Philippines said it highly appreciated "the fulfillment by the United States of promises to protect the Philippine statehood."