At the headquarters of the United Nations received a letter from Kiev. In the letter, the Maidan authorities of Ukraine express protest at the statements of the UN Secretary General Ban Ki-moon made at the St. Petersburg International Economic Forum. In Kiev, they decided that Ban Ki-moon allowed himself too much by uttering the following words (quote
Regnum
):
Russia as a founding member of the United Nations and a permanent member of the Security Council plays a very important role, and I really seriously count on the leadership of the Russian Federation.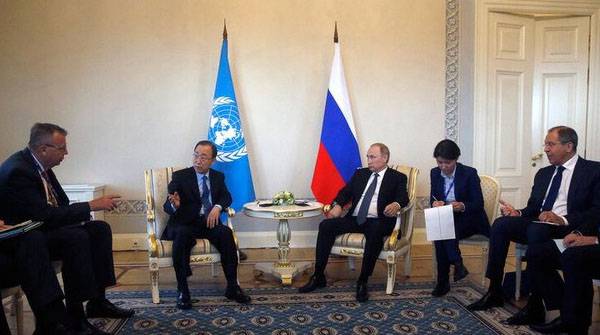 Ban Ki-moon noted that Russia's international efforts are helping to resolve world crises. In particular, the UN Secretary-General mentioned an attempt to bring the opposing sides in Syria to the negotiating table.
Attention is drawn to the fact that the initial press release distributed the statement of Ban Ki-moon, which mentions Russia's role in resolving the Ukrainian crisis. It was this press release that made Kiev react violently. Permanent representative of Ukraine to the UN, Vladimir Yelchenko, stated that he "does not agree with the interpretations of the UN Secretary General, since Russia is showing aggression towards Ukraine." After some time, the press service of the UN Secretary-General said that in the speech of Ban Ki-moon there were no words about Ukraine, but he spoke exclusively about attempts to resolve the conflict in Syria. However, Ukraine was already unstoppable ... The angry letter to the UN has already been sent.
The official representative of the organization, Stefan Dusarric, said that the letter had been received and that it would be answered. However, it is already known that Ban Ki-moon is not going to give up the words about the important role of Russia in resolving international conflicts.