German industrial group Rheinmetall presented at the Eurosatory 2016 exhibition a new 130-mm cannon, which was announced at the beginning of the year, the blog reports
bmpd
.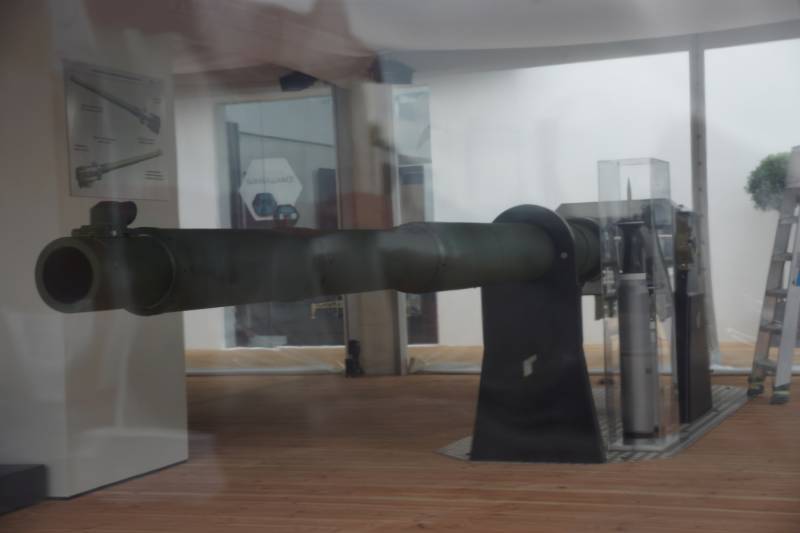 "The barrel length of the new gun is 51 caliber. The new gun will have 50% more power ("perfomance") than the well-known 120mm / 55
tank
gun Rheinmetall L55. The 130-mm gun has a vertical shutter, an oversized charging chamber, and the barrel's inner surface is chrome-plated. The barrel is equipped with a heat shield, no muzzle brake. The total weight of the gun is about 3000 kg, including the weight of the barrel itself - 1400 kg, "the resource writes with reference to the developer's information.
For firing, it is planned to use "two types of promising unitary shots - an APFSDS with an elongated tungsten core and a partially combustible sleeve using a charge on gunpowder of a new type, as well as a multi-purpose high-explosive projectile with a programmable air undermining (HE ABM), based on a similar DMNNXX 120-mm projectile. "
Sample technical demonstrator of the new 130-mm / 51 tank gun Rheinmetall in the exhibition Eurosatory 2016. On the left - a demonstration of the differences 120-mm and 130-mm armor-piercing sabots.
According to representatives of Rheinmetall, the gun will be ready for serial deliveries closer to 2025. It is also noted that to install it on the Leopard 2, "a new tower is being developed, unified according to the chase with the existing tower of this tank."
In addition, the 130-mm cannon is planned to equip a promising tank, the development of which will be conducted by French and German designers.