Admiral V. Korolev became our "first sea lord" just two months ago (07? .04.2016). Prior to that, as is known, he acted as commander-in-chief (with 11.2015), headed the joint strategic command (USC) North (with 22.12.2014), and before its formation - the Northern Fleet (with 23.06.2011). Recently, the admiral has been very busy strengthening our military presence in the Arctic, so I do not intend to reproach him for the desolation to which the surface forces of the Northern Fleet have come - I just focus on this.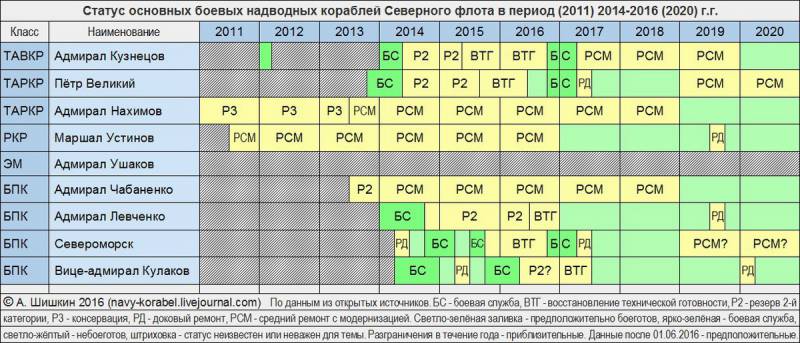 As can be seen from the table, from mid-2014 to mid-2016, i.e., for two years, of the nine main naval surface ships of the North
fleet
only two (22%) showed worthy activity in distant waters: the BPC Severomorsk and Vice Admiral Kulakov. Six others spent almost all this time either in reserve, or at VTG, or in lengthy repairs with modernization. The ninth, the destroyer Admiral Ushakov, can't be monitored at all, because (according to media reports) it rarely goes into the sea and just as rarely gets into the lens at the berth in Severomorsk. As far as we know, the last time Ushakov was on a long voyage on August 23.08-14.09.2005-11, XNUMX (as part of the Kuznetsov KAG in the Atlantic), and an XNUMX-year stay in the OVR forces suggests sad thoughts.
How did it happen (and who is to blame for this) that most of the shipboard staff of the Federation Council for the long term was not in business (in the state not ready for use) - a question worthy of the attention of the main command of the RF Armed Forces and the competent authorities. Moreover, this is not the only or even the worst example - the multipurpose component of the atomic submarine forces of the Pacific Fleet is still completely absent (listed only on paper) - this has been repeatedly mentioned in the journal, and nothing changes. We need an effective (fast and high-quality) planned military ship repair, and some of its samples (well, or a close enough approximation to that) we already have - Dalzavod, 13-th SRZ and not only. USC need to pull the rest, and the Navy does not bring the matter to crowds in the bases and SRH. Big ships have a place in the ocean.