After completion of state tests, the frigate Admiral Grigorovich arrived in Sevastopol, a representative of the Black Sea said
fleet
Vyacheslav Trukhachev.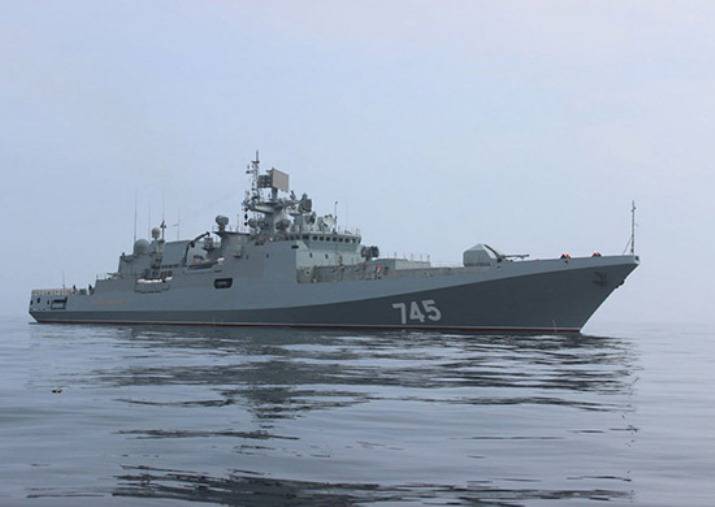 "Admiral Grigorovich" went to Sevastopol after state tests, performing tasks in the Mediterranean and the naval transition ", - Trukhachev quotes
Interfax-AVN
.
According to him, "the last time ships of this class arrived at the Black Sea Fleet in 1981 year." The newest frigate became the 4-m patrol ship on the Black Sea Fleet.
"The commander of the Southern Military District, Colonel-General Alexander Galkin, the commander of the Black Sea Fleet, Admiral Alexander Vitko, the leaders of the Crimea and Sevastopol, the granddaughter of Admiral Grigorovich - Olga Petrova, who is the godmother," participated in the welcoming ceremony for the frigate in Sevastopol; .
He recalled that "6 May" Admiral Grigorovich "left the naval base in Baltiysk, starting the inter-fleet transition to the Black Sea Fleet to a permanent place of deployment. During the voyage in the Mediterranean, the frigate made a brief entry into La Valette (Malta). "
Help BSF:
"Admiral Grigorovich" is the lead patrol ship of the 11356 project's long-distance maritime zone. Patrol ships of this series have a displacement of the order of 4 thousand tons, speed - 30 knots, navigation autonomy - 30 days. The frigate is armed with Caliber-NK cruise missiles, the Shtil-1 self-defense missile system, the A-190 X-mmX caliber mm artillery, the anti-aircraft artillery, the rocket bombing unit, torpedoes, can carry the Ka-100 helicopter (Ka-X-NNXX) or the X-ray Ka-NNXX-ray missile launcher, torpedoes. .