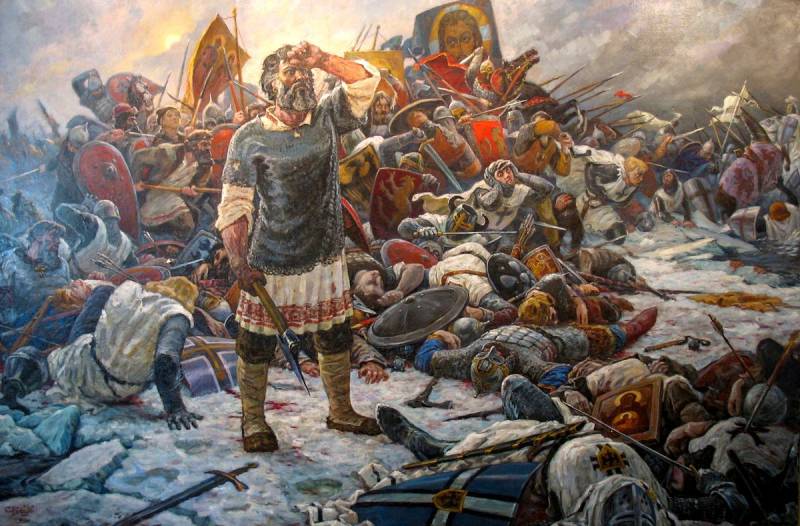 Does it happen at least one day when people are not told how barbarous, uncivilized, aggressive and harmful this country is Russia? The answer is no, it does not happen.
A joke from personal experience: a few days ago, being invited to one serious prestigious radio program, I listen to Robert Kaplan (Robert Kaplan), he says sensible things about the Middle East, and then gives out the usual introductory word about "Russian aggression in Europe." Kaplan is not just an eminent scientist, he was an adviser to Robert Gates, the US secretary of defense, so he knows perfectly well that NATO military bases were located long before the beginning of the crisis in Ukraine at 120 km from St. Petersburg. He knows that in 2008, on the initiative of the United States, a missile defense project was launched in Poland and Romania. But it is not important. Russia behaves aggressively, and we should not forget about it.
A joke from public life: Anders Fogh Rasmussen, Prime Minister of Denmark from 2001 to 2009, was NATO Secretary General from 2009 to 2014. In this position, he implemented a missile defense project, which, according to his stories, was directed not against Russia, but against the southern nuclear threats (implied Iran). The Iran with which the world a few months ago with the help of the "Five plus One" group (USA, France, Great Britain, China, Russia and Germany) signed an agreement to avoid such threats. However, a few days ago, Rasmussen became a personal adviser to the Ukrainian President Poroshenko, and in his first statement in the new position, he said that it was necessary to act in such a way that Europe would not only extend, but also expand sanctions against Russia. Against the aggressor country, the barbarian, and so on and so forth, see above.
This long introduction will help clarify how useful it will be to read the following two books as soon as they are published: "Russophobia - A Thousand Years of Distrust" by Guy Mettan (Guy Mettan) and Putinophobia by Giulietto Chiesa. These books complement each other in various aspects, as can be seen from the titles.
Mettan (Swiss journalist, historian and politician) analyzes this
historical
"Distrust" since the time of Charlemagne, explores it, not missing historical jokes, historical
News
from French, English, German and American sources. Of course, the most sensitive pages are devoted to current events: from the Khodorkovsky case to the alleged "invasion" of Georgia in 2008, from the Olympic Games in Sochi to the crisis in Ukraine in 2014. The author of "Putinophobia" is Julietto Chiesa, an expert on international issues, For many years he worked as a correspondent in Moscow, more sharply revealing a political debate: he turns to the latest episodes of Russophobia, which applies to Vladimir Putin. The constant attacks on Russia, according to Chiesa, are the embodiment of a complex conspiracy of American elites after the collapse of the USSR, built on a perverted, and therefore doomed to collapse system of exploitation of natural resources and financial speculation.
Both books written for different purposes are in many ways in contact with each other. Both authors point to a one-sided use of information that fuels old Russophobia, Mettan compares it to anti-Semitism, and Chiesa to a real military tool. Mettan also suggests that we reflect on the following fact: in China and Japan, who fought with Russia, the phenomenon of Russophobia did not develop, unlike America, despite the fact that the United States was an ally of the USSR in both world wars. It should mean something. The Swiss scientist analyzes high-profile cases (hostage taking in Beslan, a plane crash over Lake Constance) and sorts them down by brick, revealing propaganda hiding inside, distorting all the uncomfortable details, and with them the actual reality.
In the analysis of both researchers in cases, both political and criminal, when drawing parallels with modern versions of the same events, shocking details are revealed. Both Mettan and Chiesa, among other things, without hesitation isolate in such a distortion of reality the dangerous process of political speculation that could put at risk the stability of entire continents.
It seems obvious that neither Mettan nor Chiesa is trying to portray Russia as a paradise on earth or a knight without fear and without reproach. This is also explained by Vincenzo Trani, CEO of General Invest (General Invest is an Italian holding investing in small and medium-sized businesses in Russia and the CIS) and Vice President of the Moscow Chamber of Commerce and Industry who sponsored the translation of Russophobia into Italian: "Mettana's goal is not to put the West on the dock, but to give Russia the word that the Western media refuse to do with a certain methodical approach in an attempt to reconstruct the complexity of relations between Russia and the West." The same Chiesa warns Moscow not to "exhume the idea of ​​the Third Rome and the associated idea of ​​the great messianic destiny of Russia."
The difficulty lies in the fact that we are immersed in the opposite picture of the world, according to which the messianic destiny is attributed to us (the spread of our way of life), and for the sake of this goal we are inclined to justify anything (how many wars we organized and continue to arrange for others "Good"?). In this picture of the world, it is necessary that Russia be always and in all guilty, and the West is always innocent and under any circumstances. The reality is a bit more complicated. And forgetting it is dangerous.