Speaking at the "parliamentary hour" before the State Duma deputies, the Prosecutor General of Russia Yuri Chaika told about the successes achieved by law enforcement agencies this year. According to Chaika, it was possible to prevent terrorist acts in crowded places. The Prosecutor General noted that the attacks were prevented in Moscow, Yekaterinburg and Krasnoyarsk.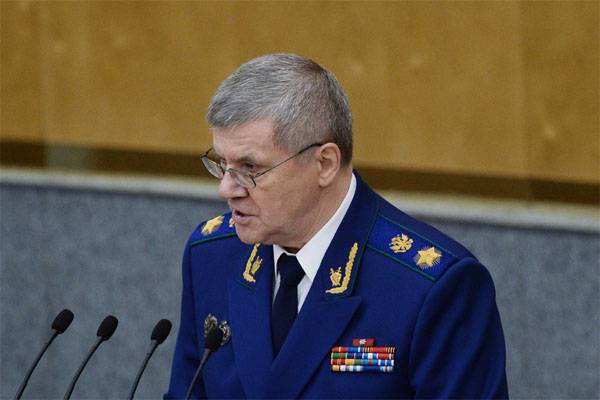 According to Yuri Chaika, in 2015, the number of crimes of a terrorist nature has significantly decreased. In the 2014 year, according to the Prosecutor General, such crimes were committed 33, and in 2015 - 8. The reduction is by 76%.
The Prosecutor General of Russia noted that a more effective regulatory and legal framework of Russia is being formed, which makes it possible to better counter terrorism and extremism. Statement by Yuri Chaika leads news agency
Interfax
:
A lot is being done in this direction. A global anti-terrorism security system has been created. The founding document was the strategy to counter extremism in the Russian Federation before 2025, approved by the President of Russia.
As an initiative, which Yuri Chaika calls anti-extremist, he puts forward a proposal to block websites without a court decision, which are subject to information about the course of mass riots. According to Chaika, to block such sites, the authority of the regional prosecutor must be sufficient.
RBC
cites the statement of the Prosecutor General:
We found support from a number of State Duma deputies and members of the Council of the Federation in the need to implement these initiatives and prepared legislative proposals that will present