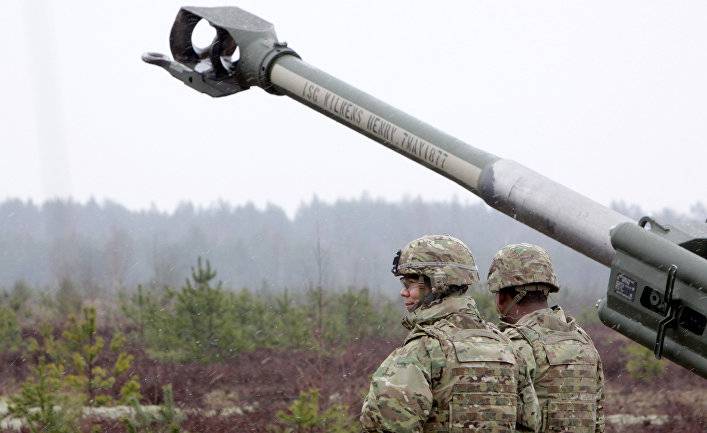 "The fact that Denmark is sending soldiers to the Baltic states is correct, but then we must take them out of other places," says international politics professor Ole Wæver. What Russia is saying about Europe provoking it and about aggressive NATO, which violates previous agreements and climbs into the "Russian garden", is not only a matter of concern for the West, but is also true.
It says Ole Waver, a professor of international politics at the University of Copenhagen. In his opinion, the idea of ​​a Russian threat to the West is not the main thing. Because on closer examination, we were historically a threat to Russia.
"In many ways, Russians are more right than the West in the interpretation of what happened in the first 20 years after the end of the Cold War and before the 2010 year. The Russian interpretation is much closer to reality than the western one. We treated them disrespectfully, like a third-class country, "he says.
The professor points to examples of arms escalation, which for NATO were a response to "Russian aggression." For example, the notorious missile shield, which, if there was a base in Romania, could bring down enemy missiles launched against Europe, as well as the general increase in the number of warships in the Baltic Sea and
tanks
in countries bordering Russia.
Moreover, it's quite natural that Russia regards as a manifestation of NATO's aggression the fact that many former Soviet republics have now become members of the North Atlantic defensive alliance, despite verbal agreements reached after the fall of the Soviet Union, that NATO will stand aside It is from these states, says Ole Waver.
And there is no talk about Russian expansion
For the West, proof of Russian aggressiveness is the annexation by Russia of the Crimean Peninsula in Ukraine in 2014. But according to Ole Vevera, this should not be viewed as an expansion on the part of Russia, but as a strategy aimed at expressing itself wherever possible.
This should be compared with Russian provocations with submarines in the Baltic Sea and combat aircraft in Swedish and Danish airspace, which are an expression of the fact that "the Russians are perfectly able to seize the initiative and surprise".
"The Russians have found out that if you act like the biggest bully in a class who breaks the rules and creates a little chaos, it gives you some strength. And they succeeded in such a strategy in the sense that they managed to return Russia to the world map. But it would be completely wrong to interpret this as a manifestation of Russian expansion, "says Ole Waver.
"Russia knows perfectly well that it cannot attack a NATO member country, since this will trigger the alliance's" musketeer oath "and end in a big war. Therefore, the fear of a Russian invasion of Eastern European countries is exaggerated, "said Vever.
Danish military participation in the Baltic states is reasonable
In response to Russia's "surprises", NATO plans these days to deploy up to 6 thousands of soldiers in the Baltic countries, as well as in Poland, Romania and Bulgaria.
Denmark is ready to decide that we will send 150 soldiers to one of the Baltic countries, which will be part of the buildup of NATO forces. Ole Waver believes that this is a good idea, since this step will help plug the remaining security holes in Europe.
"It says a lot about the need to stop the arms race in Eastern Europe, but it is in the Baltic countries that we should continue building up our forces. This is in full compliance with the course towards the Baltic Sea, which Denmark has been conducting for the last 30 years. In addition, this region is one of the few places where Russia could specifically destroy something, "he says.
"But it's very important that, building up armaments there, we would show restraint in other places - for example, we don't need to send troops to Poland, Romania and Bulgaria, because they want it so much because in terms of security they don't represent the same hole in relations with Russia. And NATO should also abandon its foolish plans related to missile defense, which can only be perceived as aggression, "says Ole Vaver.