There is a flight of the 52 th humanitarian convoy EMERCOM of Russia for the needs of citizens of Donetsk and Lugansk People's Republics. As part of the Emergency Situations Ministry, delivering humanitarian aid in the Donbass, 100 trucks. The total mass of the delivered goods is about 1,2 thousand tons. In addition to food, medicine, essential items, it is also fire-fighting property and equipment, as well as educational literature for schools and universities of the people's republics.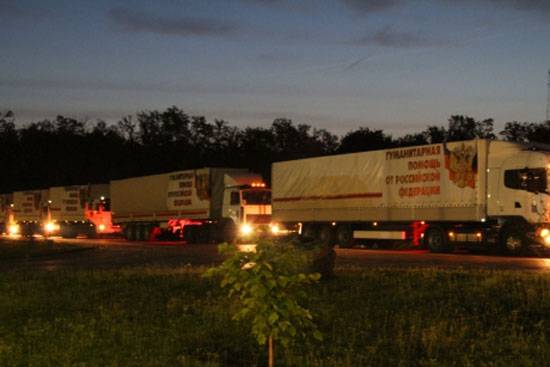 From the message
press service
Ministry of Emergency Situations of the Russian Federation:
Before arriving at the state border, the column will be divided into two parts. One of them will proceed to the checkpoint "Donetsk", the second - to "Matveyev Kurgan" for passing the necessary customs procedures in accordance with international legislation on the delivery of humanitarian goods.
The report says that the cars are driven by experienced drivers who made dozens of similar trips to send humanitarian aid to the long-suffering Donbas. The Russian humanitarian column also includes medical and technical personnel.
Against this background, information about the next shelling carried out by Ukrainian security forces comes from the DPR. As a result of this shelling, an 25-year-old local resident was injured in Dokuchaevsk. She is hospitalized in the city hospital. In addition, as a result of the shelling from the positions of the Armed Forces of Ukraine, a residential building burned down in the suburb of Gorlovka - Zaytsevo village. The shelling is also the producers of Yasinovataya and Sakhanka. Ukrainian security officials prefer to water the territory of the DPR and the LPR with mines and other ammunition at night, although there are plenty of day attacks too.