Russia completes testing of the laser protection system for the Mi-28H helicopter, reports
Rossiyskaya Gazeta
with reference to the representative of the concern "Radioelectronic Technologies" (KRET) Vladimir Mikheev.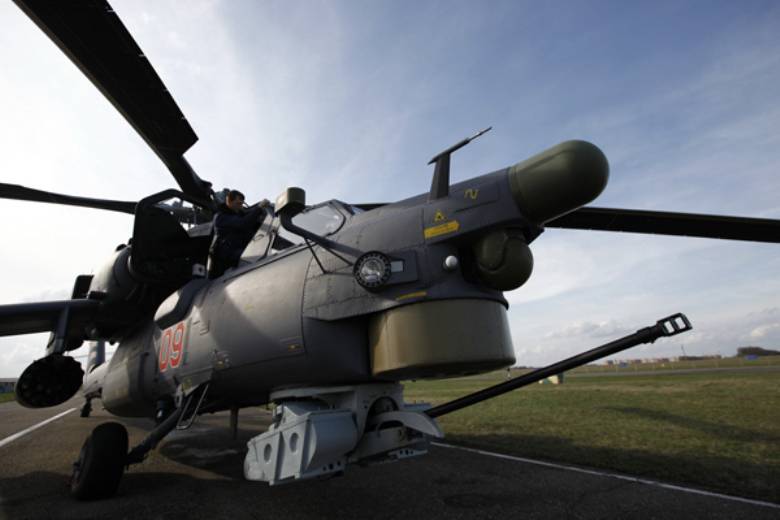 "In the near future, it is planned to complete testing of the laser suppression station, obtaining the appropriate letter for mass production and equipping all helicopters with the system," Mikheev said.
As noted in the concern, "the laser suppression system will significantly increase the survivability of the helicopter on the battlefield, protect it from existing and promising missiles with thermal homing heads."
"When a laser irradiation signal is received, a" fire cloud "arises around the car - invisible to the eye, but perfectly visible to the missile sensors. In the control system already captured by the helicopter, a new image of the target is formed, persistently beckoning to itself. As a result, the rocket leaves the combat course and, without meeting the phantom target, self-destructs, "the newspaper writes.
According to the deputy director of KRET Igor Nasenkov, "the first production samples of another station of suppression for the export version of the Mi-28НЭ helicopter have already been tested and sent to customers."
Help "RG": "Mi-28N attack helicopter" Night Hunter "is designed for search and destruction
tanks
and other armored vehicles, low-speed air targets and manpower in conditions of active fire resistance. "Hunter" differs from the base Mi-28 in a more advanced main gearbox and onboard electronics of the fifth generation. "