Militants of the so-called "Islamic State" published regular materials relating to the execution of "spies". This time, representatives of the terrorist group executed three men in the Iraqi city of Tabaka. Each of the executed was previously accused of espionage, either in favor of the United States or in favor of the Syrian government or the Syrian free armies.
After the verdict was passed by the igilov Sharia court, all three were crucified in the city center. Information resource
AMN
reports the names of executed men. These are Ahmad al-Ibrahim, Hussam Khalil al-Hammud and Faisal Abdel-Rahim al-Dahir.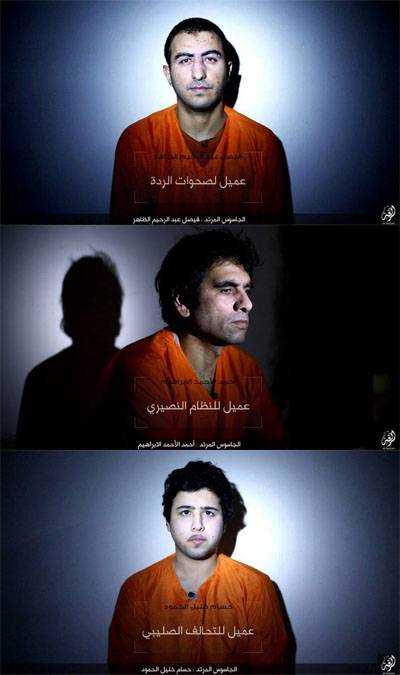 Against this background, there are reports that the Syrian air force and the Russian VKS have carried out a series of air strikes against militant positions of another terrorist group, Dzhebhat al-Nusra, in the north of Homs province. As a result, approximately two dozen air strikes destroyed several infrastructure facilities of militants, as well as several units of military equipment. The positions of terrorists from the Ahrar al-Sham group, which continues to bombard the positions of government forces in the Syrian Arab Republic, but also civilian houses, were also attacked from the air.
At the same time, the Syrian army continues the operation, the purpose of which is to encircle a large group of militants in the Damascus suburb of Eastern Guta. On the eve, several dozen vehicles, armed with large-caliber machine guns, rocket launchers and anti-aircraft guns, advanced into the area. During the fighting in the area of ​​Eastern Guta, 11 villages were liberated and the major forces of the Failac al-Rahman group were eliminated.
Video of the operations of the SAR army in the area of ​​Eastern Guta: