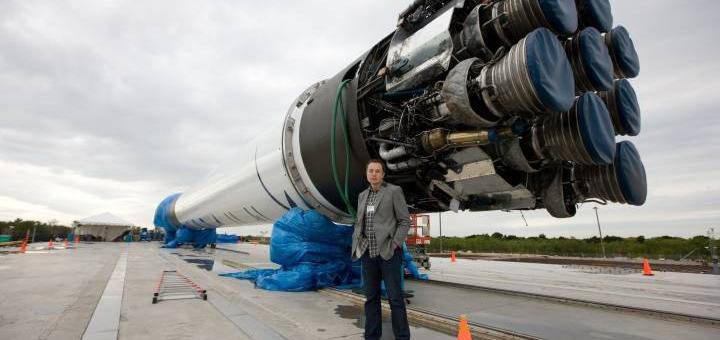 My young reader! Of course, you go to the rocket-modeling section, and you wonder why Russian engineers laugh like a horse from this Canadian father Ilona Mask - in an engineering sense, and not in the sense of a clever swindler, who launched the Invisible Hand of the Market into the American budget. (And he would have remained in the US budget, like his patrons from Congress, and God would be with them, with blue (in all senses) thieves, but we will talk about engineering nuances that are not customary to remember in the era of qualified consumers ).First bored.
Rocketry, as a mechanical engineering industry, absorbs the knowledge and technology of metalworking, materials science, instrument engineering, mathematical modeling, defectoscopy, etc., each peep in this industry is protected by patents, often umbrella ones, all parts, components and products are repeatedly tested on super-expensive stands, with their own requirements, restrictions, tolerances and landings, this knowledge accumulates over the years and decades, this whole complex is worth not even hundreds of billions, but trillions of dollars, state tr Llion trillions from the American people the pocket.
But if you, as a state lobbyist, have a trillionth NASA, which, as a government organization, is accountable to a bunch of strict doctors-auditors, and you really really want to steal, then you need to come up with some kind of super-expensive project that, like a toad through a straw , it will be possible to inflate on the stock exchange, simultaneously pumping money out of the budget.
For this you:
- hire a chatty dude with shining eyes,
- hire a team of PR people, designers and other energetic as well as unprincipled people,
- register a private company in California, and this private company is not obliged to disclose the nuances of their financial health (gygy),
- merge into this sharagu: patents, technologies, finished projects, technical documentation (thousands of volumes and hundreds of thousands of drawings - but since this is the most shameless privatization of state intellectual property worth hundreds of billions of dollars from the people's pocket, you declare a talkative dude super-duper Inventor ) and ready-made labor collectives of real inventors (this is important - with whole teams) directly from NASA,
- pushing through the Congress Budget Committee the idea that in this way you reduce the burden on the NASA budget, especially on its retirement items (do we remember that NASA personnel - the coolest engineers - are gradually getting older?),
- you provide technical, technological, patent support to the newborn sharaga, connect military, intelligence and counterintelligence, silence hundreds and thousands of patent owners, silence tens and hundreds of journalists, who suddenly realize where it is better never to try to "dig", otherwise fuck the wolf ticket, you connect to the Brilliant Company of Uniquely Suddenly Suddenly From Nowhere Aroused Brilliant Inventor dozens and hundreds of first-class media,
- you provide dozens and dozens of orders on the satellite services market to the Unique Genius Team of Young And Daring (yeah, anyone, anyone can go to where four star generals and tanned congressmen with noble gray hair graze),
- you negotiate with stockbrokers, brokers, rating agencies, bankers, with all this wolf pack, so that they "see where you need to see, and you don't see where you don't want, your head will snow, it will be very bad, doctors will be sent, you can accidentally drop out of the window, choking on a olive tree, raping a maid in flight - jamesbond services to choose from, "
- but you can't deploy production of rockets directly at NASA facilities, so you are helping the newly minted team to find factories (the whole cooperation includes dozens and dozens of private, semi-and fully state-owned companies, often from the Pentagon department) with an aerospace background to rivet missiles on projects merged (gratis, i.e., from NASA),
- and - the cherry on the cake - you promise everyone that you are not just making rockets (NASA can do the same - and for what to make a garden?) - you promise that you are doing a Unique Program, THE FUTURE IN THE FUTURE !! 11 is one of many reusable rockets with landing on planet Earth! Hooray, victory, Hollywood catches multiple orgasms.
If you can crank it all up within a few months, then you are from the home team of America, no less. So, everything is ready for the divorce of suckers, all are ready, charged, discharged and excited.
But this, their mother, rocket! This is a fakinshit, planet Earth! And on it is gravity, the laws of nature and various minor engineering limitations.
Which ones?
This is a geostationary orbit where it is necessary to "hang" the satellites.
This is the ISS orbit where it has been lobbied (well, that everyone can, yes?) Cargo delivery by trucks and, in the long term, astronauts - living human people. (At the same time, the state-owned NASA is buying the services of a privately owned private company, which — see above — is not obliged to report on the structure of financial flows, shareholders, and so on.
These are the dimensions and the average mass of telecommunications and military satellites - several tons, at least (not to deal with microsatellites? All serious people, we work seriously).
Consequently, the rocket's energy comes out of the orbital mass to the geostationary orbit and from the mass of trucks (and ships with people).
Naturally, you can't just get a ready-made nasovian engine out of your pocket, because everyone will be surprised - what's the uniqueness and ingenuity? Therefore, in your pocket you accidentally find the old Nasovskie drawings of the old engine from the American lunar landing module (who said the patents? Who said the stands?) And take this engine as the main cruiser. But such low-power engines need a lot, nine pieces at the start - but you shout loudly that this is a Breakthrough into the Future - and people eat it up.
Naturally, the technology of soft landing on the planet has been worked out for more than 60 years, so you take the same ideas from the lunar landing module, and attach landing supports to the rocket. But here the engineering joke begins - normal disposable rockets have reached such perfection that the walls of their design are as thin as possible; therefore, even the hardening of materials is taken into account by normal engineers when pouring tanks with liquid oxygen. And you are told that it is simply impossible to attach landing supports to these thin walls - therefore you need to fence support belts, thickenings all over the sidewall, hardening of the structure, put the drives for the "legs" - and this is all difficult, this is all construction, reinforcement, and constant weighting constructions, and not at all like at the beautiful presentation that you showed in Congress (or not you, but your tanned patron with a noble gray hair - and why does he have this whole headache? Decide, country girl, you were given money!) - and you cancer, put unique (I'm not I teach) engineering teams (which were given to you as slaves, en masse) - and they do the impossible - work out the unfortunate folding landing supports, do it perfectly, as true American engineers can ... but the whole meanness has not yet ended.
Naturally, for a soft landing of a rocket, you need a lot of fuel and an oxidizer - this is the very "dead" mass that is useless for putting a satellite into orbit, but you need to carry this weight in order to land your rocket on a platform in the ocean (here you scream wild cry, because for every extra kilogram of construction you need to take extra fuel - or reduce the declared orbital mass promised).
Naturally, having lunar technologies, a bunch of lunar engines, you are trying to somehow save on construction. The most important thing is that you cannot produce your own rocket at the cosmodrome itself - there are no such fakinite technologists, workers, welders, metallurgists, mechanics and all this rabble who wants to eat and fuck women, so you should try to save at least somehow deliver the missile in parts to the Vanderberg military base (who said - the Pentagon?) - and how to do it, except by rail ??
And here comes His awesome Majesty - Railway Envelope. You cannot change bridges, crossings, contact lines along the entire length of the route from the factory to the launch complex, so you must enter the design in the maximum size of the 3.7 meter.
THREE WHOLE SEVEN TENTH faknashit meter. That's all you can. Do you understand? You, the lord of the United States, who has put everyone in cancer, are forced to reckon with the railway envelope.
Oh Kay, cowboys, so what happens with our nine "Merlins" and the 3.7 railway gauge? And it turns out a wild, sticky horror of an engineer - in order to stuff so much fuel and oxidizer in order to pull the promised cargo into orbit, you need to make a rocket high ... high ... (lift the meter, it is ugly lying in a swoon) - 70 (in words - SEVEN) meters .
You feel bad. You really feel bad - with the diameter of 3.7 meter you need to ensure the flight strength of the macaroni length of 70 meters (divide 70 by 3.7 and get the ratio 18.9 - one to nineteen!). The worst thing is that you need to ensure the sustainability of this "macaroni" on the platform in the ocean (who said - the waves?) - columns, 70 meters in height, - and keep it under normal breeze (who said - wind pressure ?!). You are very bad - you need to increase the "legs". They corny should be longer. With their dimensions, they need to be made thicker, stronger (who said - we cut by weight ?!). For every extra kilogram of "legs", for every extra kilogram of "macaroni" - you need extra fuel and oxygen.
Fakinshit. Riley Fakinshit.
You are trying to improve the engineering quality of this pasta monster. You accidentally get out of wide trousers the technology of supercooling kerosene and oxygen - so you can shove more fuel and oxidizer at least a few percent into the same tanks - and you are silent about the price of this technology - it's a loss and cost, it's all worth the money , not provided for in any estimates, but you already do not care about estimates - you need to serve the "macaroni god" and the physical laws of the planet Earth.
But you are the owner of America. You have a headache. Your clown is jumping in all the media, and your colleagues from the Committee ask you: "Listen, Billy, buddy, well, what's up with the dividends?"
Uncomfortable in front of boys.
And your engineering bastard, the size of a heavy-class rocket, clamped by a railway envelope, burdened with "legs" and a dead landing fuel stock, begins to put into orbit (you, nevertheless, have first-class slaves who once worked at NASA) orbital load which can be launched by a light rocket (well, well, light-middle class).
Under the friendly neighing of Russians and Europeans. Even the Chinese are giggling.
But you are the master of America. And you, stung by a coyote, howling through hundreds and thousands of pocket media all over the planet Earth, that your "macaroni" is about to sit down. She falls once, she falls two - but here's the landing !!! You managed not to drop the "macaroni"! You have the best programmers on the planet.
What's next? And then - the most boring - you need to redefine all the "macaroni" and examine - whether it can, the space structure, the triumph of materials science and engineering, start again - it is necessary to study how each element, every fakinchit gasket, went through the overload, temperature and vibration if there are no microcracks in every detail, in every weld, and if there are no defects in each information cable. And you have - ma-ka-ro-ni-na - with nine antediluvian lunar engines, consisting of hundreds of thousands of parts, assemblies and mechanisms. And each knot should work smoothly - after landing - and work again on overloads.
And you, almost the owner of America, a brilliant promoter who has put hundreds of thousands of specialists in cancer, from a fucking engineer to four-star generals, from a PR girl to a smart banker from Bank O Which is Best Forget - you understand that you have to reach the end of the presidential the term of that dark-skinned guy with a tired look, do not get a bullet, do not fall out of the window, do not choke on the olive tree and, God forbid, do not rape the maid.
And what about your brisk boy with arrogant eyes? And today he is compelled to publicly announce that the successfully set down rocket - according to the results of the survey - is unsuitable for a restart.
Oh fucking shit ...
(thanks to Alexey Shironin for the tip on the link)