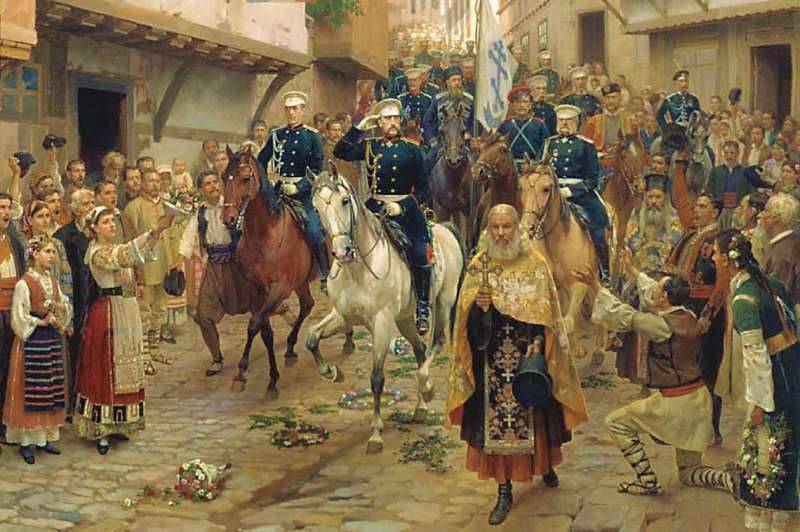 Inevitably, the same sad theme arises in consciousness: Russia spent in the 19th century millions of gold rubles (which it was not at all superfluous, and could be useful for very different purposes) and tens of thousands of soldiers' lives (which are invaluable in general), freeing the Balkan Slavs, in particular, the Bulgarians from the Ottoman yoke. Whoever today tried to assert, oppression took place, and the release was hard and bloody. Incidentally, it was not only the Balkan Slavs who were freed, freedom, except for the Serbs and Bulgarians, was also received by the Greeks and Romanians.
History
This liberation largely accounts for the Russian history of the nineteenth century.
I think everyone is aware of what happened next: the two world wars liberated Bulgaria fought against Russia. This is exactly the same way: two world wars for the Kaiser and Hitler. Few people in Russia know about this, but during the WWII Bulgaria under the auspices of the Third Reich tried to create a "Great Bulgaria" on the Greek and Serbian lands ... Now it is a loyal member of NATO. By the way, the Bulgarian ambassador flashed on the screen, supposedly the Bulgarians would simplify obtaining a visa for the Russians. Thank you, "bros," to Turkey, with which we fought so many times, we have a visa-free regime ... It's a funny thing, isn't it?
But, of course, a generous gesture from the Bulgarian Foreign Ministry conquered all Russians, just laid it on the spot, on both shoulder blades ... Although, had Bulgaria remained in Turkey (which is logical), we would have gone there without a visa. Such is the historical paradox: Russian soldiers fought with the Turks (who now accept Russians without visas) for the freedom of the Bulgarians (who look at the "Russo tourist" with a suspicious squint and require documents). Difficult science is history, isn't it?
So suddenly life is shaping up: up to the very downed Su-24, relations with "Muslim, hostile" Turkey were much better with us than with "fraternal, Orthodox" Bulgaria. Such things, such a funny incident, such a paradox. No, of course, you can bring a lot of arguments from the Bulgarian side that the Russians "are to blame for everything", that "they left Bulgaria" did not help there and there and there ... But, you all understood: it's sad sad and hopeless ... Arguments can be given endlessly, the facts will remain facts. Here it is customary to take offense terribly, to start "tearing the vest on yourself", insulting someone there ... You do not need this, too much. Unworthy of this great power.
In geopolitics it is useful to think sober, and not to throw out emotions (I think, even Erdogan agrees with that, at least now). After all, what did we do after "liberation"? And we got small ambitious "independent" states that least wanted to show someone their appreciation and gratitude (especially "barbarous and backward" Russia). They began to live their own lives and solve their own problems. Surprisingly, this is the case. And there is nothing to be surprised at - the natural course of events.
By the way, the situation with Serbia is not much better than with Bulgaria, just remember, and when were we allies? Good question, yes? During the Second World War, everything was "not so simple." In the sense that Tito was more focused on the British, and not on the Russians. Is amazing? I know, now someone will say that he was more impressed by the British parliamentary democracy ... Of course, of course ... Tower Bridge in the traditional London fog ... It is just fascinating. And then the nasty Stalin tried to subjugate the freedom-loving Yugoslavia, but the proud Serbian people retained their freedom won with such difficulty. By the way, I think in the years through 30 about the "freedom-loving Lukashenko" and "totalitarian Putin" will begin to tell a similar legend.
So, please, do not be here for this nonsense. The Serbs were not our allies: hurt, but true. You just need to prove it with something specific, except for pure emotions. But it is impossible to prove: alas and ah. In our mind, as in Klitschko's (Netherlands / Holland) mind, in parallel there are two Serbian peoples. One, which is some kind of "brothers", the other - the backbone of Yugoslavia, which during the entire Cold War was absolutely not interested in the problems of the USSR, but looked more to the West. Here "we have such pies." Serbs also remember Russia,
only
when they have problems. I do not know why, just stating the sad facts. Our problems somehow do not bother them.
So, first of all: I do not call for a powerful tantrum on this occasion, life is what it is. It should be taken calmly and adequately. No one should be offended by anyone, much less no one needs to "take revenge" (as some wanted to take revenge on Bulgaria in the WWI). It is stupid and irrational. We have some
system problem
in foreign policy, and it certainly needs to be addressed. Doesn't it seem strange to you that today we find a common language with the United States much easier than with "union Belarus"? And who do you think is to blame? You know, this very kind advice, that if you constantly have the same problems with others, then the problem is in you, not in them?
Do not you think that we are doing something wrong? For hundreds of years we have been moving some "brotherly Orthodox" projects, and following the results we constantly get a "turnout", we are terribly offended, we fall into depression ... But, in my opinion, this is a reason to seriously think and reconsider priorities. Even so. At one time, Abraham Lincoln was asked: "How long should a person's legs be?" "To reach the ground," was his answer. A successful policy is a policy that works, and not one that looks beautiful.
At one time, a certain Bismarck voiced ideas
real politician
, that is, a policy that is not tied to some kind of ideology, religion, etc. Somehow it seems to me that it would be much smarter not to try to fence some complicated schemes, but to use ordinary diplomacy. There should be only two situations. The first is the subject of the Russian Federation and we build all relations on the principle of a "common pot" and historical community of interests. The second is a foreign country (friendly or not is another matter) and all communication goes through the office of Mr. Lavrov.
Judging by the sleek appearance and expensive costumes, Mr. Lavrov lives quite well, so let him work out his earnings. But seriously, the situation when the leader of the neighboring state "opens the doors with his foot" into the high Kremlin offices (me) is somewhat abnormal. So it should not be. Independent state? Welcome to the Foreign Ministry. What do you want? Somehow, through the Foreign Ministry, our relations are lined up much better than using the "people's diplomacy" method. Not a fig this is your "people's diplomacy." Nowhere and never. Alone scandals. So only cold calculation, only professionals, only the Ministry of Foreign Affairs.
You shouldn't be offended by anyone - it hurts business and politics, you have to make decisions on a cold head and being sober. And no emotions, no "Orthodoxy." "Naruli" already in the CIS space lovers ... So only the Foreign Ministry, only hardcore. Not important: Bolivia, Bulgaria, Bangladesh, Belarus or Burundi. And everything will be fine (Sergey Lavrov guarantees this). The consequences of the policy of "meeting old friends without ties" will be hiccupped for a long time. Honestly - fed up! You, when the tooth hurts, go to a good dentist, and not to the witch in the 5 generation? Here is the same thing.
It is time to admit that attempts to invent "their" methods of work in international relations suffered a complete fiasco. So in such matters I trust only professional diplomats from the Ministry of Foreign Affairs - they do not exist
such
faylov. As soon as after the second Maidan, official relations with Ukraine (or what was left of them) began to be built, finally, along the line of the Foreign Ministry, everything became much more logical and simpler. Misunderstanding is largely a thing of the past. Everything has become clearer, more honest and frank - so long ago. After all, why do we have such "thoughtful" relations with the United States (at least, we understand each other)? Because they are handled personally by the Minister of Foreign Affairs. Why do we have such a mess, for example, in relations with Belarus (we generally
nothing
can not agree)? Because there a dozen lovers "fraternized" there for a quarter of a century And now there the devil himself will break his leg.
It is necessary, finally, to learn the "Bulgarian lessons": there is no friendship in politics, and there are no friends either. All our attempts to build relations with other countries "humanly," and not politically, end in a rather monotonous way. Certainly in the Kremlin at the time, many shouted: "Why do we need some kind of diplomacy with Ukraine and Belarus - we
so
agree. " And how was it all over? Agreed? As for the regions of the Russian Federation, there are no problems, no matter how many subsidies we allocate - this is our territory. As for any international agreements - only through the Ministry of Foreign Affairs. Otherwise, we will constantly have a "field of miracles" and a lot of complaints about us.
This, you know, how if you do business with relatives, this does not mean that you do not need to arrange everything on paper or that the services of an expensive lawyer are superfluous. Money through love and design at the notary, and we will be friends and fraternize at the holiday table.
In general, life is a funny thing: Bulgaria, in alliance with Germany and against Russia, lost two world wars, and even Turkey lost only one (few people remember this, but God sees everything). That is, if Bulgaria remained part of Turkey, they would not have had to fight for Hitler.