Kiev intends to get rid of the nationalist units, which is trying to provoke their attack on the positions of the militia in the Donbass, reports
RIA News
message of the representative of the Ministry of Defense of the DPR Eduard Basurin.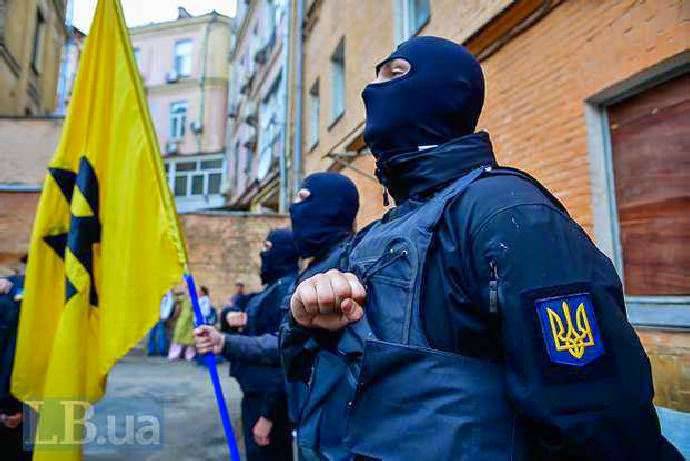 "Our intelligence obtained reliable information from a number of sources in the command of the Armed Forces of Ukraine on how the military leadership plans to get rid of the nationalist battalions," said Basurin.
According to him, "it is planned that with the transition of the Ukrainian units of Azov, Aydar and Right Sector to attack, the regular units of the Armed Forces of Ukraine will imitate the support of their actions, but will stop at the turn of the current contact line and then retreat on the second frontier. "
"With these actions, the command of the Armed Forces of Ukraine will push the" national battles "to the offensive, while it will step aside, which will allow the DNR troops to destroy the units of the radical nationalists. The victims among the civilian population and the nationalist battalions, according to the Ukrainian leadership, will allow to kill two birds with one stone, namely, to divert attention from the suppression of peaceful protests in Odessa and get rid of the radicals in the ATO zone, "said the colonel.
In addition, Basurin said that the APU continues to pull heavy equipment to the line of contact.
"DNR intelligence continues to record the concentration of forces and means of security forces near the line of contact. So, in the area of ​​the settlement Sladkoe on the territory of warehouses, the location of 15 MLRS "Grad" was revealed, 9 north-west of Pravdovka were found
tanks
, north-west of Vodyanoy - 9 tanks, in the Lozovatsky area - 4 D-30 howitzers, "he said.
Also recorded is "the arrival of more than 300 people from among the fighters of the Azov and Right Sector units in Volnovakha".