Today it became known that the train that "tested" the route of the so-called New Silk Road bypassing the Russian Federation finally returned to Ukraine. Test failed. Information Agency
Interfax-Ukraine
reports that after a long idle time at the Kazakh-Chinese border, the train did not wait for the interest of Chinese companies that "could carry cargo to Ukraine".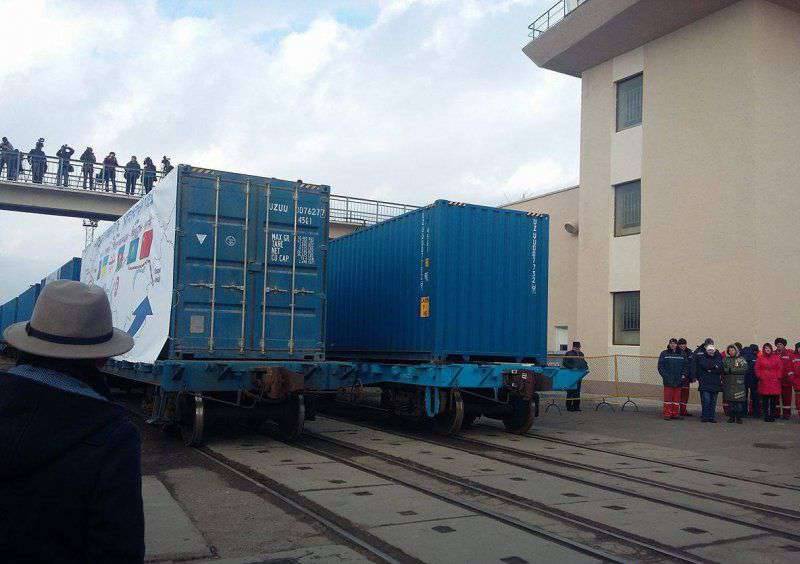 An interesting fact is that while the train was unsuccessfully waiting for those who wanted to ship the goods with it, the name of the city disappeared from the map of Ukraine, from where the train began its January 15 route. Instead of Illichivsk on the map a new name - the city of Chernomorsk (Odessa region). Renamed as part of "decommunization" ...
As a result, the "light-weight" train (with empty containers) made its way from the station to Dostyk (Kazakhstan) to the Ukrainian Black Sea. The route was the same - across two seas: the border - the territory of Kazakhstan - (ferry across the Caspian Sea) - Azerbaijan - Georgia - (ferry across the Black Sea) - Odessa region.
The press service of PJSC Ukrzaliznytsia, which (the company itself) has recently been led by Polish citizen Wojciech Balchun, states that the Ukrainian train will run "as orders arrive". From the statement of the representative of the press service:
The capacities of the project participants make it possible to freely dispatch a container train, which will transport 1 thousand tons of cargoes weekly in each direction.
If we consider that the movement of the train in one direction only (to the border with China) took about 16 days, the term "weekly", apparently, implies the operation of several such trains at once. At the same time, the railway company itself states that so far there is no interest on the part of the Ukrainian and Chinese business to this route, since over the years it has managed to "develop a different logistics of transportation".
Despite this, the Minister of Infrastructure of Ukraine Volodymyr Omelyan said that he considers the first train to the border with China to be "an important political success." Apparently, political success will be even more significant if the number of Ukrainian empty trains on the "new Silk Road" increases ...