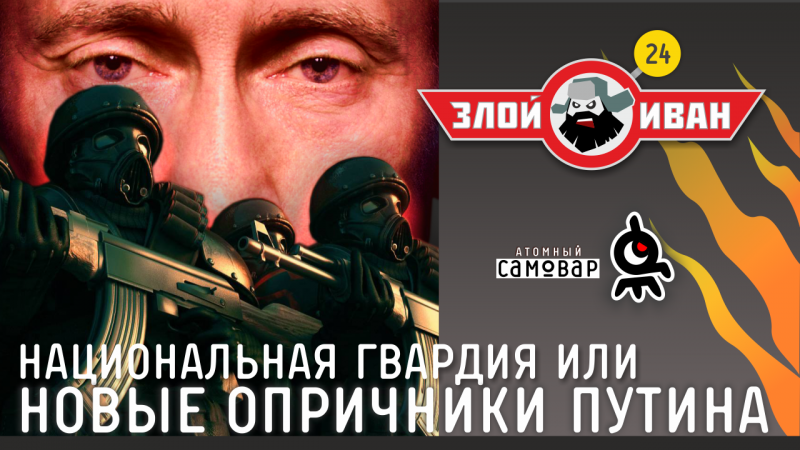 Hello to all ours and not to ours! I am Ivan Victory and today I am traditionally angry.
Putin announced the creation of the National Guard in Russia!
Well, judging by the buzz on the Internet,
news
important and very disturbing. The clouds are condensing over our freedom once again. And she is in danger again! And the reason is, however, as always, Vlad Putin, to whom our freedom does not quietly give small children. Now you and I will find out the true reason for Putin's creation of the National Guard. And analyze some of the most likely versions of what is happening. And one incredible, but about her at the end. Go!
Version one. Oprichniki king.
According to crystal clear and truthful liberal media. The creation of the National Guard is another insidious plan to restrict the liberty of Russians. Vlad Putin creates his personal army of loyal and ruthless guardsmen, the sole purpose of which, from now on, will be the dispersal of protesters and protesters against the tyranny of pregnant women, children and the elderly. After all, before that, there was no one to disperse and suppress meetings.
Well, that, you see, very logical and from this an even more frightening version. Wait a minute though! But now, riot police and other security forces under the Ministry of Internal Affairs are dispersing unauthorized meetings. Or maybe they give them to the oppositionists flowers and gingerbread? Do rubber Thai clubs make Thai therapeutic massage especially tired and unhealthy-looking creative revolutionaries?
Not? Still beating, give deadlines and imprison.
Well then, what a tantrum? Offended, you are my opposition?
Yes, you absolutely will not change anything, well, except that instead of riot police, you will now be thrashed and shoved into padrocks, National Guard. I think this is not a fundamental difference. In any case, in this process, and those and others are experiencing mutual pleasure.
Version two. 37 year. New Gulag, revolutionary threes, black funnels and shootings of the intelligentsia. Uuuuh!
I'm very sorry, but the version is again beating logic. For these purposes, the FSB already has the bloody heir of the KGB. And it is better to strengthen it than to transfer the repressive functions of a new young structure without centuries of "experience of torture" and "illegal trials". Yes, and "bloody torture chambers" is already a proven and reliable brand. Why undermine his image?
Version three. Protection of the oligarchs.
The National Guard is created to protect the oligarchs and their loot from the people's anger.
In the view of some intellectuals, the oligarchs are such dandelions of God, such as nyashki, who are completely defenseless and very vulnerable. And of course they do not have their own security structures and private armies.
I will disappoint these naive clowns.
Oligarchs are volchars, with very peculiar moral and ethical guidelines. They love themselves very much and very carefully take care of their safety. They do not like the state and do not believe it.
Do you think they will entrust him with their protection? The state, which every year all insistently hints that it is time to share. He covers them with taxes and fees. It tries to oblige them to invest in infrastructure projects and forces them to return capital back to their homeland. What this public is actively resisting.
So that again does not converge. There is even a more likely version that the National Guard will deal with the dispossession of the oligarchs, but not their defense.
The fourth version. And, perhaps, it is the most incredible and delusional. What if? But no ... no ... Putin can not be so cunning. But I will voice the thought.
Now many government agencies, the FMS, the tax department, the Federal Drug Control Service, the prosecutor's office and others, have acquired their own security forces. With obscure features, with a blurred area of ​​responsibility. It remains for the Central Bank to acquire its own bank special forces. Well for the heap.
In other words, from the point of view of the law, a complete mess is created in the sphere of public services and their security agencies. Violence is the prerogative of the state. To endow all of these functions indiscriminately with each other is detrimental to the entire system of state security. Therefore, it is quite a reasonable step to transfer all these power units under general management with a transparent budget and with the rights and duties prescribed by law.
Although not! Just some kind of nonsense. I will not believe this!
Well, everything seems to be the version. Choose any!
By the way, most of all this news alarmed the liberal media and the opposition. They traditionally began to hysteria and pump up. It's easy to explain. Soon the election. And the news is only an information session, which is once again used to inflate negative and emotions of listeners, readers and viewers.
Surly hysterical herd instead of a reasonable voter. This is exactly what they need. Do not be this herd. Turn on your head.
Everything! Believe in your people and your country. Our future and the future of the whole country depend on us. Realize this thought. See you soon!