Greetings to you, my dear readers! The spring we were waiting for has finally come. So, life boils around us. The sun warms the blood. The blood runs faster through the vessels in which it is supposed to. Oxygen in all organs comes in increased amounts. Good!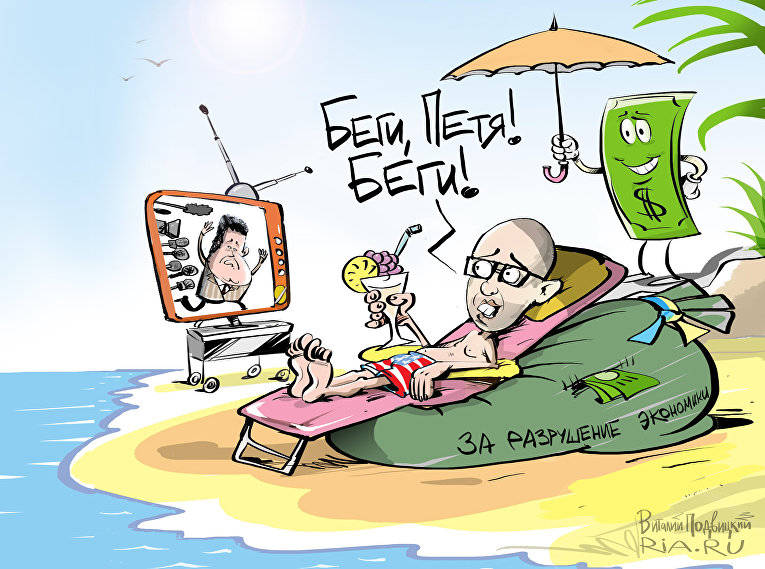 But, if anyone knows, an excess of oxygen in the blood leads to a paradoxical result. Try to take a deep breath a few times. So that the air reaches the bottom of the lungs. And what happens? And you will end up with poisoning! Yes Yes. Oxygen poisoning. Your head will spin from the excess of this important component of air.
That's about it today is observed in Ukrainian society. Many people with whom I talk, just talk about some loss of control over his own head. Yes, and cockroaches it happens.
You, dear readers, already know about our next, whether it is Zrade, or Peremog. About attempts to create a new government. Our deputies then adopt a resolution recognizing the activities of the government of Yatseniuk unsatisfactory, then annul their own resolution. It seems to be no longer so scary to rule. Even satisfactory.
Similarly with the new cabinet. Consultations, bidding, as in Privoz, spraying mud at each other and constant complaints and appeals to the people for help.
Yes, we know everything. Agree. Then the new prime minister will speak on television. Maybe even with the president on a couple. They will say about the road to a happy future. On the need for popular support. On the need to return the Crimea and the Donbass. About vsemirsnsnami. What should I explain to you? Everyone knows everything and can predict.
But we somehow did not care. Some sense of freedom among the majority. Strange feeling. Like that wife from an old song. When "all the spoons are unwashed, all the cups are broken, and the kids are crying on the stove ..." Everything is supposed to be what is usually indecent to show.
The feeling is probably the same as that of those who, during World War II, were driven out by the Germans for demining fields and roads. Drag on the ropes harrow across the field. And they understand that they no longer need anything. Here it is, death. Beside. Maybe the next moment. Or maybe lucky. And then everything will happen again tomorrow. But the result is already known. And each new step is perceived as happiness.
Well, okay, something I hit the philosophy. I will not breathe so deeply. So that there is no excess of this oxygen in the brain. And it's uncomfortable to spoil your mood in the morning.
Life is in full swing. Adjustable. In all parts of the body. It hurts like that.
Today we are all convinced that Ukraine is now an agrarian country. I read the press or watch TV - for sure, farmers. However, I talk with villagers cockroaches and understand that something is going wrong again. Winter our winter crops survived well. And the villagers are ready to sow a lot. Only here prices are closed up so that there is no sense to do it anymore. Golden bread is obtained. Fuel, seeds, fertilizers ... And then, to grow is one thing. And where to sell? Quotas in the EU. There are Chinese and other Africans ...
We even appointed a new enemy of the Ukrainian people. Do not believe it, but it is ... Firtash! He, so-and-so, stopped the plants for the production of fertilizers in Ukraine. And now it is urgent to open the western borders for imported, God forbid, aggressive, fertilizers. Well, it does not grow much even in our land without these fertilizers. Zrada next. Somehow this situation does not fit into the "agrarian appendage of the West."
It's ridiculous to write, but today all our economic experts speak more about Russia and its problems. About the USA and Canada. About the EU, finally. If you are not lazy, take a look at our media. From Ukrainian
News
in economic sections only about the hryvnia course and you will find out.
By the way, this is a nasty hryvnia, as it seems to me, again decided to return to the ruble for your ruble. Remember, once ... Beauty. Burly, rosy-cheeked ... Bucks walked around with gogol. Why? Only 8 hryvnia for such a handsome man. And these Russian "Rubles" already had 30 for the American. And now? Your ruble is such a good fellow.
The American walks around, threatens his fist. And what's the point? He is getting fatter and getting fatter. And our ... In short, so quietly the body moves again at your ruble ... Already it seems to be getting closer to 0,4. I think he wants to catch up in weight. To match. And then these Westerners somehow very quickly satisfied. More to each other show off.
Yes, so that you, the Russians, are not really upset their noses, we have revealed your next zradu. If I could, I bet you couldn't guess what. And it is connected with oil. Shame on you You are in our "gas station" called. Scared? And then ... We have already become experts on inventing your "feats".
In short, the Kremlin again, through its man, Benya Kolomoisky, is dirtying Ukraine. And do not say that our Kolomoisky. He can not be ours by definition. All of us who stand out from the crowd in general are agents of either the Kremlin or the USA. Or, at worst, Turkey.
So here. Kolomoisky oil does not give technical. I took, you know, Ukrtrannafta oil for storage. Contracts concluded. It seems like money will be stored. So what? Does not understand something, that did not give us the next tranche. No money in the country. Pay, screaming ... Goon. What is for it how many hundreds of millions are there - zilch. The people won the last hryvnia on military tax spends and does not squeak.
Thanks to our judges. We quickly made a decision. Contracts are not valid. And that's all. Figo with oil, not money. Now give the bastard people oil.
In general, we now decided to freeze debts. Who should - forgive everyone. Our deputies decided so. Now, "vsemirsnsnami" and Russia will wait for the rise of our economy, so that means to return the money ... And we are in the telephone - wait for an answer, wait for an answer, wait for an answer ...
Yes, I almost forgot. That is because the enemies are all around. I'm about pranker. I have never heard such a thing before. And today even the cockroach knows.
By the way, yours, Russian. They have become quite insolent, they already speak for Himself. No, not yours. Our ... Vladimir Kuznetsov and Alexey Stolyarov "divorced" the United States. Well, not entirely, but in the person of one, but respected newspaper. Interview, you know, gave. For our guarantor. About corruption and this, Panamagate ...
True, they then called and told the editor that it was a fake. But. Our SBU has already published irrefutable evidence that the interview was prepared by the FSB. Our spies are already spying on who did it. And such a puncture. Substitute special service.
But nothing. You will meet Putin with the people. Speak will be the type of live. And we have already prepared a fig in your pocket. Our agents have already reported that everything is rehearsed. And determined. In the boarding house near Moscow supposedly gathered people. All seated. Identified questions. In short, we already know everything!
The only thing that bothers us is that your president again chooses our "independent" journalist in tridents amid the colors of the downs. That will be a bummer. Ours are not involved in the productions!
And honestly, we envy you. A president who is not afraid to talk live like this is worth a lot. I can't remember another such leader with my cockroach. Although lucky for those lucky.
The Americans here again complained about the Russian plane. That you fly dangerously close to this unfortunate "Donald Cook". Well, it floats and floats itself across the Baltic ship. In Poland floats. To power to demonstrate. And your planes, more precisely, the plane, again ... And flew about. Americans in general have become Su-24 afraid. Now they fly in the Black Sea, now in the Baltic. That in Syria. And when only the aircraft has time to distill from place to place. We are all sure that there are no planes in Russia. After we cut off your oxygen supply with spare parts.
The aggressiveness of the Russians was confirmed by the Americans themselves. They even made a statement in Washington. "The White House is aware of the incident. [...] This incident in no way corresponds to the professional standards of conduct of military forces operating in close proximity to each other in international water and airspace," said White House spokesman George Ernest at a briefing in Washington.
But Russia did not make any statement that the American sailors unprofessionally sailed under the Russian plane. Like this. So the Americans sailed peacefully. A rocket on the "Cook" for design. The idea is such a design. Beauty will save the world. Although Su-24 with combat load also looks nice.
Well, the last for today. The Ukrainian experience is already being adopted by European countries. You always depicted geese when I wrote about the great Ukrainian wall. They gagged in unison, stomach cramps. That wall, which was buried on the Russian-Ukrainian border on the personal order of Yatsenyuk. Thought Ukrainians are fools? What we have nowhere to put money? But the Europeans appreciated all the greatness of the idea. Our idea.
Austria began to build a "Ukrainian wall" on the border with Italy! True, the Austrians are small people. The scale of our our lack. The wall is built on only one pass, Brenner. But ... The idea is ours!
Okay. I finish talking about events and go to breathe. Damn it, with this poisoning. Not poisoned to the end. And spring will end soon ... And I advise you. Take your Tarakanushka in the pile, start a car - and in the woods. On picnics, on fishing, just to walk on the young grass ... Life will continue even when someone wants to finish it. Life can not be killed. You can kill the body. But life is short. What can be seen today, alas, will not happen again tomorrow. Tomorrow will be something else.
For the militia. I am not a reptile ... Moreover, not even dill. I'm a cockroach. And I will fulfill your request right now. Albeit late, but I congratulate the DNI on his birthday and the song that they asked for, I will post. Let them think on the opposite side too. Can such people be tilted? Even in duplicate lay out. Because I believe, someday, and we will be like this. With pride in front of proud people ...
Your Colorado Cockroach.