Prime Minister of Ukraine Arseniy Yatsenyuk resigned. On your page in
Facebook
Yatsenyuk published a video message, presenting the text of which in Ukrainian and English:
I decided to resign the authority of the Prime Minister of Ukraine. April 12 submission will be made to the Verkhovna Rada. The political crisis in the state is far-fetched (artificial). The desire to change one person blinded politicians and paralyzed their will to real change. The process of changing the government turned into a mindless run on the spot.

We can not allow the destabilization of the executive during the war. Such a prospect is inevitable if, after the resignation, the new head of the government of Ukraine is not immediately elected. Petro Poroshenko's Bloc faction nominated Volodymyr Groysman as head of government. Having done everything for stability and continuity of the course, I declare the decision to transfer the duties and responsibilities of the head of government.

Both recent governments are unique: they are harbingers of a new Ukraine. Thanks to those colleagues who acted honestly and disinterestedly.
For two years of war, difficult but correct reforms, the main pillar of our government in parliament was my associates from the Popular Front. Grateful for their support. Please support my decision and continue the common cause together. The Popular Front remains in the coalition, because now it is the only way to protect the state.

Thanks to our people, society, social activists, volunteers, thank you each for endurance and patience.
From today, I see my tasks broader than the powers of the head of government. New electoral legislation. Constitutional reform. Judicial reform. Coalition control over the course of the new government. International support of Ukraine. Membership of Ukraine in the European Union and NATO. This is part of my program.

The essence of our problems is not purely political. She is ethical. Politics is the result of morality, our ethical standards. If dignity and morality require a change in political rules, a change in these rules is sure to come.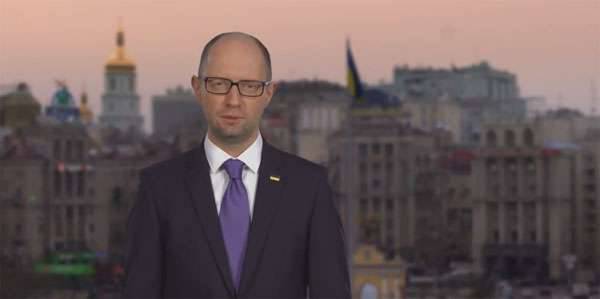 A special cynicism is that a person who is one of those who started a war against his own people, and whose political rating has dropped to the level of statistical error, speaks of morality and ethical standards.
Against the background of the resignation of Yatsenyuk, which is not yet de jure accepted, the president of Ukraine Poroshenko has already announced that the new government of Ukraine will receive financial assistance from the United States and the European Union. We are talking about 1 billion dollars in financial guarantees from Washington and 600 million euros from the EU. In addition, Poroshenko is counting on a tranche of 1,7 billion dollars from the IMF. As you can see, the only goal of the upcoming change of prime minister is connected only with the receipt of regular loans, which are persistently called "help" in Kiev.