Last week, with the Indian shipyard "Mazagon Dock Limited" (MDL) for the first time went to sea for testing the head diesel-electric submarines S 50 Kalvari of the Scorpene project, the blog
bmpd
.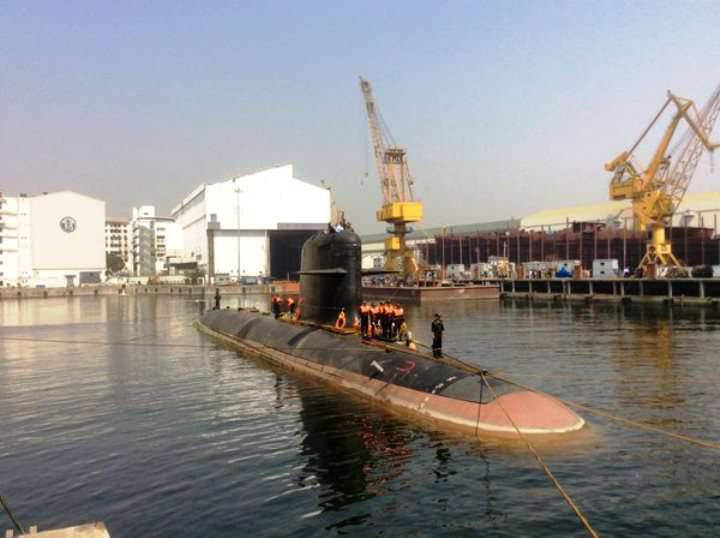 The contract worth $ 3,2 billion for the construction of 6-submarines was concluded by the Indian side with the French company DCNS in 2005. Production of boats was organized in India. However, their construction was significantly delayed (the first submarine was planned to be handed over to 2012 d) "due to the technological problems of the Indian enterprise, as well as disagreements with the French side regarding the amount of assistance provided".
"The head Indian submarine of the Scorpene S 50 Kalvari project was laid on MDL 1 on April 2009, removed from the 6 workshop on April 2015 of the year, and launched on October 27 on 2015. According to the current schedule, it is assumed that the boat will be commissioned by the Indian Navy in September 2016 of the year, "the author specifies.
At the same time, experts believe that the diesel-electric submarines will require more lengthy tests and refinement, which will shift the date of its delivery to the customer to the right to 2018.
According to the new schedule, all 6 submarines should be transferred to the Indian
the fleet
until 2021. However, this schedule raises serious doubts among experts, "especially in the light of reports that the last two Indian Scorpene are planned to be equipped with the Indian air-independent power plant being developed by DRDO," the article notes.