This year, the Ukrainian AvtoKrAZ PJSC (Kremenchug) sharply reduced the production of cars, the blog reports
bmpd
with reference to the magazine "Auto-review".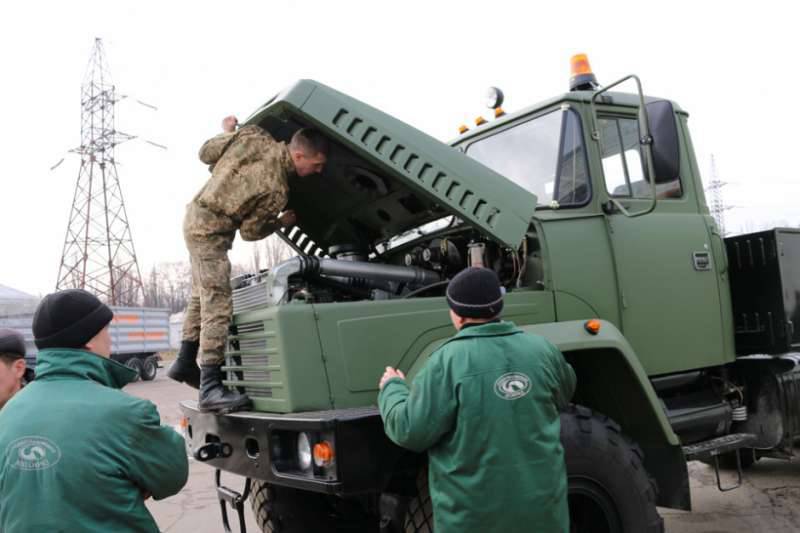 The KrAZ-6446 tractor of the Ukrainian army restored at PJSC "AvtoKrAZ"
The article "Mimicry", published in the journal, notes that "a search by the plant for imported (western) engines (for example, Ford Ecotorq of Turkish production with 330 horsepower) is a necessary measure. Previously, the KrAZ trucks were traditionally equipped with YaMZ engines, but now the official deliveries of any components from Russia have been stopped - although Yaroslavl engines still come to KrAZ through third-party vendors. "
According to the author, "at the moment, the plant has adapted imported engines of seven brands: Cummins, Deutz, Fiat, Ford, Mercedes, Toyota and Chinese Weichai." And "such diversity will adversely affect the maintenance of engines and the availability of spare parts," he believes.
However, the main problem in reducing the number of orders.
"If last year KrAZ completed, albeit with serious losses, but with a good result (largely due to military order and export): 1401 released a car here against 1386 in 2014 and 930 in 2013. But in January, 2016 was released only 65 copies, and in February - 30 at all. The rest of Ukrainian manufacturers of commercial vehicles are even worse: in the first two months of 2016, only five buses were made in the country, all Bogdan brands, "the article says.
In this situation, the plant continues the practice of overhauling wheeled vehicles APU. As the press service recently reported, the company repaired, free of charge (at its own expense) the KrAZ-Spartan armored vehicle and the KrAZ-6446 army all-terrain tractor, which "went to the places of their permanent deployment."
Moreover, the amount of work was done fairly large, in particular, "the rear and front axles, front suspension were restored, the deformation of attachment brackets was fixed, the frame, cab, bonnet deformation was eliminated" and so on.
Representatives of the Ukrainian Armed Forces who took the equipment were satisfied with the work and thanked the factory workers for their patriotism.