Informational portal
Yeysk. Info
published information that the city launched the latest multi-purpose all-weather fighter MiG-29KR / KUBR. Earlier, three aircraft were tested in Yeysk, which are part of the 279th separate naval fighter aircraft regiment SF. Now the flights of the 100th separate fighter aviation regiment have begun. This regiment is also part of the Northern
fleet
Russian Federation.
Flights are conducted on the basis of the Center for combat use and retraining of flight personnel. After completing the training flights, the pilots will go to continue the flight tests of the fighters to a special integrated simulator located in the city of Saki. It is there that the skills of taking off and landing on the deck of an aircraft carrier will be mastered.
The training activities are connected with the fact that in about half a year the only aircraft carrier of the Russian Navy Admiral Kuznetsov will begin its long-range march.
Photo by Nikolay Balabaev: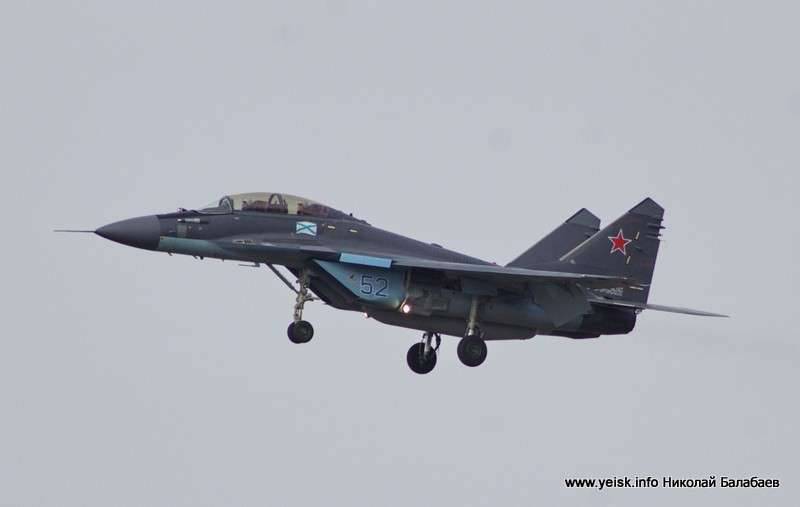 For reference: MiG-29KR / KUBR - multipurpose fighter aircraft of the deck-based generation 4 ++. This is a modification for the domestic aircraft carrier of similar fighters, previously delivered under the contract to India. The aircraft has the ability to be operated in all weather conditions. The main purpose of the MiG-29KR / KUBR - air cover in the near zone, the destruction of enemy ground objects and anti-ship protection.
The maximum radius of action - 1,3 thousand. Km. The maximum rocket-bomb load is 4,5 t, the maximum take-off weight is about 22,4 t.