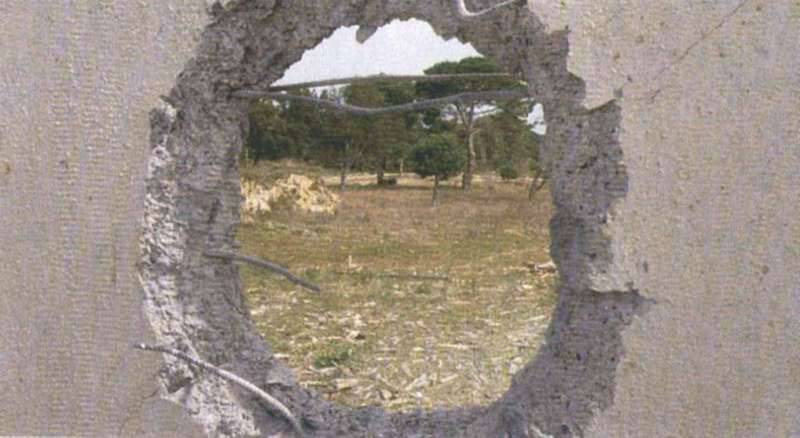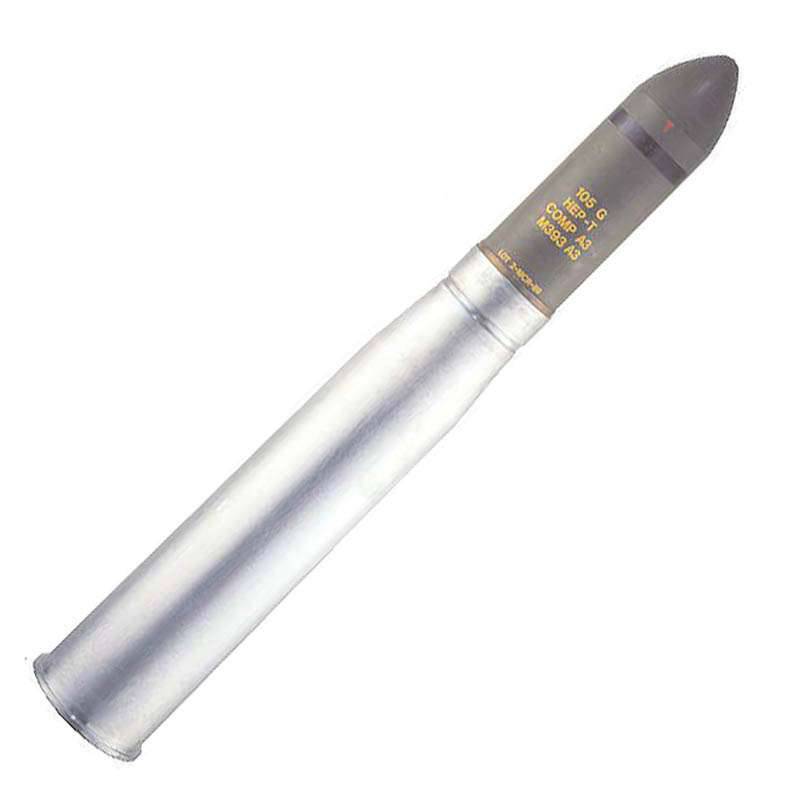 The 105-mm high-explosive fragmentation tracer M393A3, which is in service with the US Army, is optimized for concrete-borne tasks
The Belgian company MECAR SA (currently part of the Nexter Ammunition Business Group) is expanding its portfolio of medium-caliber ammunition intended for the export market and, in addition, focuses on the development of 90 mm and 105 mm ammunition for light armored vehicles and main military
tanks
(MBT).
MECAR has completed the development of the 30-mm armored-piercing pierced sub-caliber projectile with a tracer (BOPST) M928 with an aluminum sleeve, and the version with a steel sleeve should be ready in the 2016 year.
30-mm BOPST is designed for Orbital ATK Armament Systems 30-mm Mk44 guns and Mauser-made MK30-30 2-mm selective guns. The first version of the projectile with an aluminum sleeve, designed for the Orbital Mk44 gun, has a total weight of 530 grams and an initial velocity of 1400 m / s.
The shell with a steel sleeve is designed for the Mauser MK30-2 gun, it has a mass of 695 grams and an initial speed of 1420 m / s.
Both versions of this 30-mm M928 BOPS projectile have a tracer with a burning time of 2,5 seconds; they have a long core of tungsten alloy without cobalt admixture, which is able to penetrate rolled homogeneous armor 55 mm thick at an angle 60 °.
In order to increase the firepower of the Russian-made BMP-2, which is in service with more than 30 countries, MECAR has almost completed work on the new 30-mm BOPT ammunition, designated M929.
The new projectile is designed for 30-mm gun with selective power 2A42, which is installed on the BMP-2. It uses the core and the throwing substance from the BECST MECAR M928, but it has a shorter sleeve and a smaller amount of propellant, and its initial speed is reduced to 1275 m / s.
According to the company MECAR, M929 projectile penetrates rolled armor 45 mm thick at an angle 60 °. The development will be completed in 2016 and several potential foreign buyers have already been identified.
The latest mid-caliber shells developed by MECAR use its own technology 25-mm ammunition BOPST M935A2, which can be fired from Orbital ATK Armament Systems MXX, M242 from Nexter Systems and KBA manufactured by Rheinmetall Air Defense Oerlikon.
For the export market, about two million 25-mm BOPST shells were manufactured. The largest customer was the National Guard of Saudi Arabia with its LAV-25 8x8 machines manufactured by General Dynamics Land Systems - Canada. However, this information is not confirmed by MECAR.
MECAR manufactures several types of 90-mm and 105-mm unitary ammunition, which currently use the traditional brass sleeve. In the future, they will be offered with a semi-combustible sleeve and all that remains after the shot is the bottom of the sleeve. According to Christophe Soleil, head of the research department at MECAR, "The qualification of 90-mm shells with a semi-flammable MK8 cannon will be completed in the 2016 year, followed by the qualification of an 105-mm projectile with a semi-flammable sleeves".
This combustible liner is being developed in collaboration with EURENCO (EURopean ENergetics Corporation), which has extensive experience in the design, development and manufacture of combustible sleeves for 120-mm tank ammunition and 155-mm modular charge systems.
In addition to producing 90-mm ammunition for the CMI Defense Cockerill Mk III cannon (and its Brazilian counterpart ENGESA EC-90) and high-pressure Mk 8 cannon for the barrel, MECAR also manufactures 90-mm ammunition for CN 90 F1 cannons (DEF) F3 and F4 manufactured by Nexter.
MECAR also offers its own ammunition with insensitive throwing and explosive substances, as an increasing number of customers request them in connection with safety requirements, especially in cases where the ammunition is on board the ship.
Insensitive charges, fused explosives (EX) are considered to be a promising direction for mortar shots, while for high-explosive fragmentation projectiles (PL) with ductile explosives and cumulative anti-tank projectiles, pressed solutions, the development of which is planned for 2016, are preferred.
For the T-54 / T-55 MBT and its Chinese counterpart, Type 59, MECAR developed the 100 mm BOPT M1000A1, which has already been sold in large quantities to various customers.
The company also developed and started production of 115-mm BOPST under the designation M1150 for the X-NUMX-mm gun U-115TS (5A2) installed on Russian T-20 tanks. The shell has an unusual brass sleeve and the initial speed 62 m / s, can penetrate 1635 mm thick rolled armor at an angle 500 ° at a distance of 60 meters.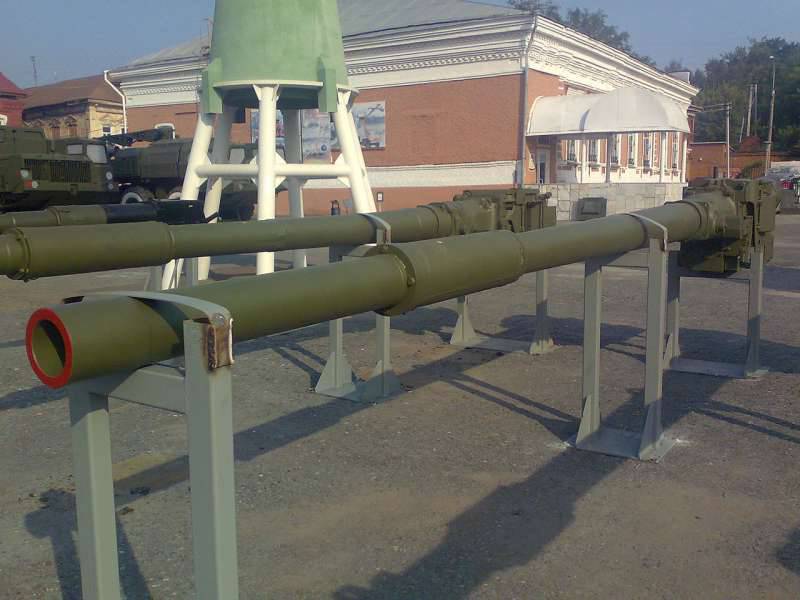 115-mm gun U-5TS (2A20)The 90-mm rifled gun Mk 8 of CMI Defense Cockerill, used for the development and qualification of ammunition
The M1150 ammunition was developed for the Egyptian army, which has a lot of Russian T-62 MBT on the balance sheet. However, MECAR does not confirm this.
As Simon Hai, Managing Director of MECAR, noted: "We are also exploring the potential of the new 120-mm BOPST for firing rifled tank guns and here India is one of the potential buyers."
As a result of the competition, MECAR was selected as the lead contractor for the development of an 105-mm tracer OF-shell with plastic explosive HEP-T (High Explosive Plastic - Tracer) for self-propelled artillery systems of the American army Stryker M1128.
In accordance with this contract, MECAR completed design work, developed the M393A3 HEP-T and the corresponding practical projectile, and also carried out firing of the M105A68 2-mm rifled cannon.
The M393A3 HEP-T projectile was used in combat by the US Army; It has an initial speed of 731 m / s, intended for the destruction of fortified shelters and the punching of concrete walls, which are very often found in urban areas.
MECAR is currently working on the further development of HEP-T shells, or an armor-piercing high-explosive projectile with a crushable HESH head (High Explosive Squash Head) as they are called in the UK. These works include remotely programmable fuses, programmable effects and insensitive combat units.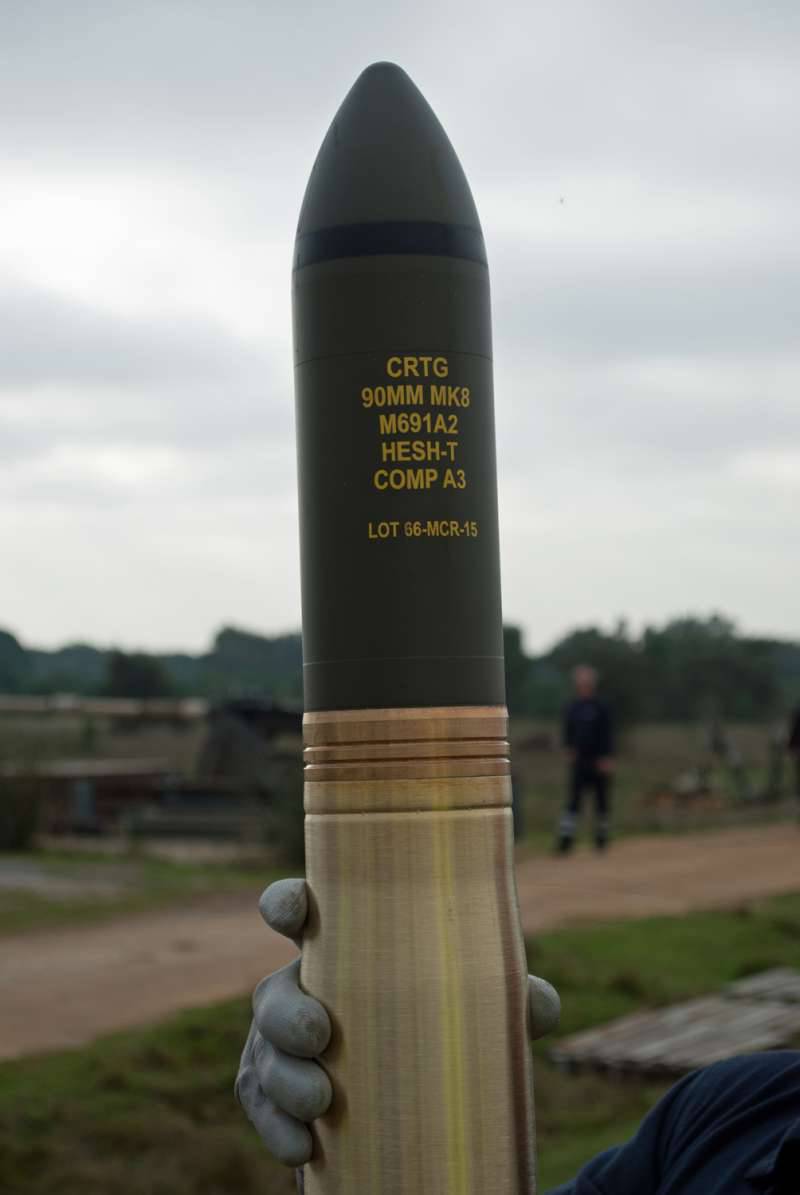 HESH 90-mm shell manufactured by MECAR
Since the MECAR test site in Belgium cannot currently be used, it rents from the 100 to 120 days a year the Portuguese Air Force test site near Lisbon. It has all the necessary equipment to measure the initial velocity, projectile velocity, accuracy and other characteristics.
MECAR had another contract with the National Guard of Saudi Arabia for the supply of ammunition for 120-mm self-propelled artillery AMS production of the British UK Royal Ordnance, which the Saudis sold 73 system through General Dynamics Land Systems - Canada. However, on the market more than 120-mm AMS installations are not offered.
36 self-propelled 120 mm NEMO (New Mortar) tower mortars were also supplied to Saudi Arabia, and MECAR supplies ammunition for this weapon system.
The company also supplied 120 mm mortar ammunition for a special version of the NEMO tower mortar, which was designed to meet the requirements
fleet
United Arab Emirates.
One of the latest developments of MECAR in the field of 120-mm mortar ammunition is a smoke (red phosphorus) and insensitive 120-mm shot.
MECAR pays close attention to new materials, including injected composite / magnesium alloys for projectile components and nanotechnology for explosives.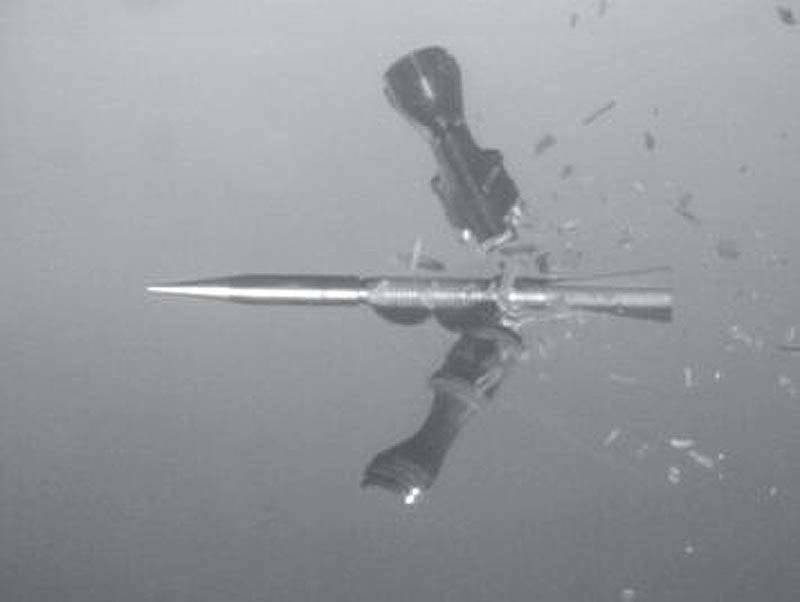 25-mm BOPST in flight with a falling pallet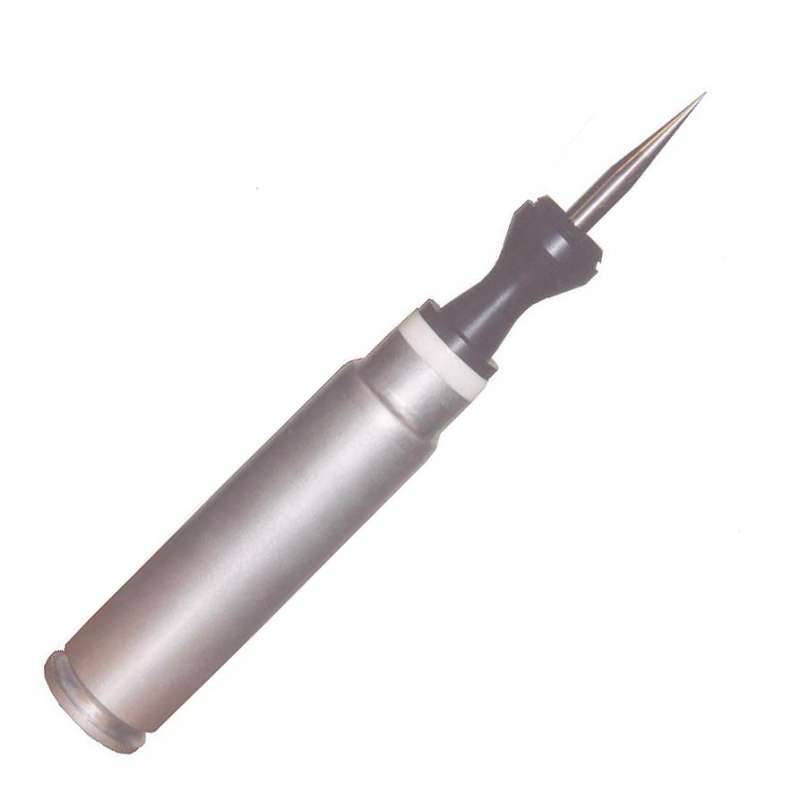 MECAR 30-mm BOPST M929 is designed for 30-mm Russian 2A42 cannons with selective power, installed on a number of platforms, including BMP-2
Comment
In addition to MECAR SA, the Nexter Ammunition Business Group includes the French Nexter Munitions and the Italian Simmel Difesa, which makes this company one of the largest manufacturers of all types of ammunition in Europe.
MECAR exports its products to more than 35 countries. Export accounts for more than 95% of all sales, so the cost of research and development is very important for confident business development in the long term.
The exchange of technical knowledge and experience between the companies in the group has several advantages, including cost reduction and development in a shorter time.
Materials used:
www.mecar.be
www.quillorcapture.com
www.nexter-group.fr
www.chemring.co.uk
www.wikipedia.org
en.wikipedia.org