Kiev mayor gave another interview. This time, Vitali Klitschko practiced eloquence in front of the journalist of the Qatari television company Al-Jazeera. The journalist tried to ask Klitschko how he relates to the statements about the revival of the Cold War of Russia and the West, as well as that various radical groups continue to do lawlessness on the territory of Ukraine. He did not ignore the journalist and the issue related to the war crimes of the Ukrainian security forces in the Donbass.
Responding to questions about the war crimes of the Ukrainian security forces, the Nazis in the armed forces, Klitschko said that all this is "Russian propaganda" and that "Russia is investing billions of dollars in the information war."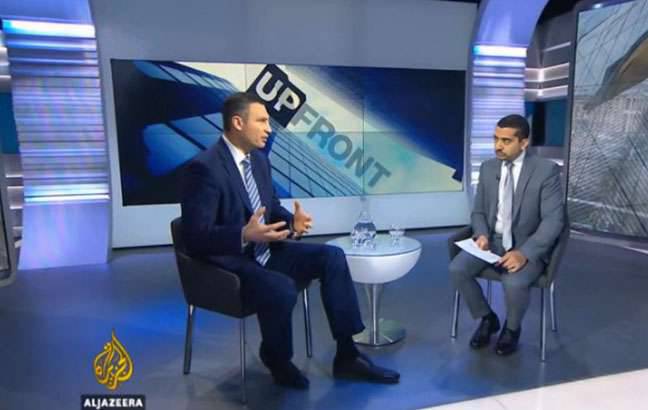 Klitschko (material translation
InoTV
):
The Nazis are not true. All this is propaganda war ... I do not see a swastika. I talk to people - we protect our territory. We protect our country.
Then the journalist told Vitali Klitschko that information about Nazi symbols was published not only in Russian but also in Western media, and the data on the war crimes of the Ukrainian security forces in the Donbass was announced by Amnesty International.
From the dialogue:
Klitschko
Excuse me, where do you get this information from?
Journalist
This is Amnesty International, have you heard of Amnesty International?
Klitschko
Sorry, I'm from Ukraine ...
It is worthy of a new chapter in the book of Klitschko pearls.
According to the mayor of Kiev, he was "born in the USSR, his father was an officer in the Air Force," and he, Vitali Klitschko, "knows how the media and propaganda work in Russia" ...