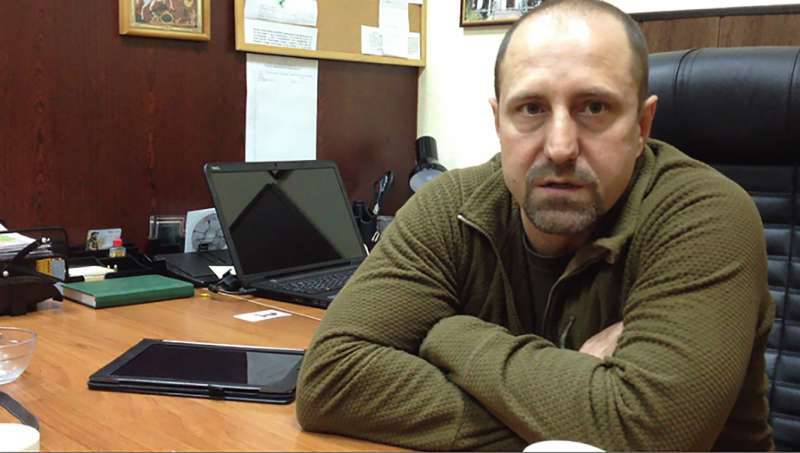 So it turns out that this material has become a kind of continuation of the two previous ones. But this time, our conversation on Skype became the basis. And, by the way, gave answers to some of the questions asked by readers in their comments on the article.
"Oddities DNR: Purgin write, Hodakovsky in the mind? Or write too?"
What can be said about my interlocutor? And a lot, on the one hand, and almost nothing, on the other. In general, a person is best judged by deeds, and not by rumors and gossip, which eventually grows over everyone who got up and took a step forward. And even more so if the step was not one.
You can talk a lot on the controversial figure of Khodakovsky in
stories
DNR, you can discuss, criticize, suck rumors and gossip. This is the choice of each individually.
But it's impossible not to admit that at one time Khodakovsky created the battalion (and later the brigade) Vostok and organized the social movement Patriotic Forces of Donbass. For both of these associations are already inscribed in the history of Donbass.
By the way, I talked with Alexander Sergeyevich precisely as the organizer and leader of the "Patriotic Forces of Donbass". For the team "East" - it's still his past. Position in the Security Council is the present. A "PSD" is the future. And not just the future as a project of a single person, but a real patriotic organization numbering thousands of real, not paper activists. The paper organization could not have formed battalions from its ranks, which later became a brigade.
Impressions of communication. Calm, without pathos, gestures. Since we didn't discuss anything at all beforehand, and our conversation was "from the sheet", I really liked the fact that my interlocutor did not think long over the answers. Yes, we discussed very topical issues, the answers to which, in principle, and so sit in his head, but still. However, this can be seen in the video. A strong man, and self-righteous.
In the conversation very rarely uses the pronoun "I". Yes, "I said," "I think," but "we thought," "we decided," "we did." Trifle, but compared to some modern figures very, very ...
The first question that started everything was a proposal to formulate a detailed answer to the topic "What is happening in the DPR today?" Since the question is not an easy one, and the answer to it took quite a long time, I think it would be better if I bring it in full and without cuts.
There was a desync, alas.
After that, the conversation has just gone.
What are we
not
talked about. We did not talk about the outright persecution of Khodakovsky by the authorities. We did not talk about the pressure that the "Patriotic Forces of Donbass" are experiencing today. We didn't talk about how deliberately and purposefully destroying useful PSD initiatives. Although I agree that there is something to talk about.
For example, about such a great initiative "PSD", as the organization of two bus routes in the areas of October and the Site. Areas difficult, as they are closely located to the so-called "contact line". And there is no public transport movement there since the start of hostilities. And, in spite of the fact that heavy battles have not been fought for a year now, the residents of these areas had to rely only on their strength, despite all appeals to the Donetsk mayor's office. But pre-election promises remained promises.
A month ago, the PSD on its own organized these two routes. Yes, just two buses, just five flights a day. Absolutely free. Moreover, this initiative was not covered by amateurs to talk about how everything is fine in Donetsk, moreover. February 21 representatives from the said mayor's office came to the districts on the subject of communicating with residents ... about turning off the routes.
"We offered the Donetsk Republic OD to replace our symbolism with our own: it doesn't matter to us, under whose logos buses will go, or what will hang on public reception centers in these areas. Do not complicate the already difficult life of the Donetsk people. that, on the contrary, buses with the symbols of OD DR will appear in peak for us, and everyone will be better. But no ... so far there has been no answer. "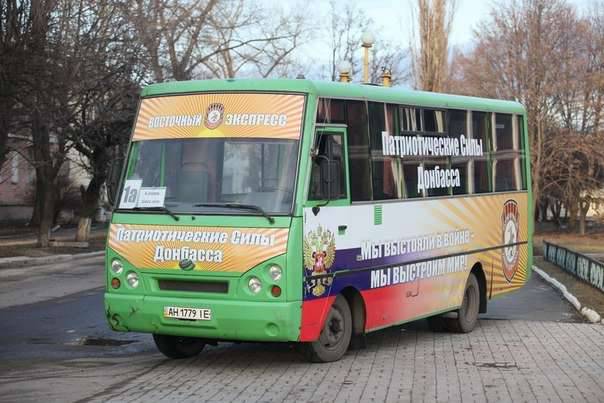 What is the "Patriotic Forces of Donbass"? Opposition to the existing government? According to Alexander Sergeevich, no and no again. PSD is not an opposition. And today in the DPR probably does not require the emergence of any direct opposition. Too much needs to be done and done quickly. And high quality. There is no time for chatter. However, here's how Khodakovsky himself described the design and estimate documentation:
We did not want to create some kind of opposition. Rather, the alternative and competition, and with obviously weaker positions. What shouldn't be supposed to strain someone and make them fear that this is a threat to the system of power and everything else. Especially since no election was actually intended. Like a pike in a river so that the crucian would not sleep. Show your teeth and your own example, how to make life better.
This was our main task, and this task was partially implemented. Yes, no one doubted that due to our stupidity and our inability to work in a normal competition environment, it would be easier to send several cars with fire brigade clothes and turn off electricity in the studio, where we wanted to organize a normal civilized dialogue. These resources are always at hand, yes, it's easier. But we achieved our goal, we made people talk. Yes, we are criticized, and this is fine, especially if they are criticized on the case. This means that people are not indifferent to the issues that we raise in PSD.
We do not want society to be warm and cool. Such a society quickly becomes indifferent. Let them scold, let them say, but they will not be indifferent. Such non-indifferent society can be raised and organized for something, as it happened in 2014 year.
Then we are talking about problems. But we were not talking about problems of a political or economic nature. Talked about people. Alexander Sergeevich identified several problems that not only exist, they really hinder the development of the republic.
Former militia. This is our pain, this is our problem. You should not compare the people who came to our rescue in the most difficult first time and those who came a year later. Unfortunately, we actually lost a lot of honest, strong and noble people who could not find themselves in the republic when the active hostilities ended. Someone returned home, someone left. And in their places, where possible, these people could be of immense benefit precisely because they did not come for material goods or thrills, those who quietly sat out behind their backs leaked.
Yes, a certain power vertical was built, and not everyone was able to adapt to this vertical. But this is something without which no state can exist. The fact that we were not able to properly dispose of the human resources at our disposal does not mean any evil intent, but only a lack of skills.
About ideology. Or, if you wish, about a popular idea. This is what makes people move, make decisions and act, and not sit waiting for someone to come and do everything for them. In this regard, we work very closely together with Andrey Purgin.
(Yes, the union of the good theoretician-idealist Purgin and the practice of Khodakovsky is quite a real political force, capable not only of giving birth to an idea, but also of putting it into practice. - Auth. Ed.)
Our union with Purgin took place long ago. We did not seek to demonstrate this union, since it did not have any political task. But we supported the concept of the South of Russia, which Pergin groped for, from the very beginning. Yes, the concept has only now taken certain outlines, has received support, including media. But we initially supported this project, because the vector to Russia, indicated in it, is the flag, the banner, for which people can go, and come somewhere.
Nobody says that this is a matter of a small time period. You can not wait for the final, but people will get a goal for which you can live and fight. Our goal is Russia. There is no other option for us. We are ready to work, we are ready to fight, we are ready to wait for this Decision as long as necessary.
We see no other way for ourselves. And our war today (you can call it anything, hybrid, informational) is our common war. Donbass and Russia. And we can only win or lose it together. The defeat and collapse of Donbass will become a defeat for Russia. Let not so noticeable, but defeat. Our victory sooner or later will become another of our common Victory.
But there is no other way for Donbass, as with Russia, I do not see.
Afterword.
Of course, in the framework of one article it was not possible to state the whole conversation. Therefore, the sequel will follow. Moreover, there is confidence that this is not our last communication. I am sure that despite all his employment, Alexander Sergeevich will find more time for communication. Moreover, if someone wants to ask him a question, I will arrange it with pleasure. Write in the comments, the next conversation, I ask these questions.
Now a little about the character himself. Someone Hodakovsky may not like. As some commentators have written here, he cannot be trusted, since he commanded the Alfa special forces unit of the Donetsk Security Service of Ukraine, and, they say, it is not known what his relations with this structure are.
Attention, the question: what kind of relationship can a retired lieutenant colonel, special forces have with the former duty station? Probably the same as the former employee of the General Prosecutor's Office of Ukraine NV Poklonskaya could have, for example. Let's still get wiser in the mass. It is time.
When a person makes a choice and takes a certain path, then his choice, whatever it may be, deserves respect. Especially if this choice is connected with real actions.
Alexander Khodakovsky can be dismissed from his post as chairman of the DPR Security Council. But from this he will not cease to be the commander and creator of the "East". You can disperse the "Vostok", as it was already the case with other divisions in both republics, but from this it will not cease to be the leader and chairman of the "Patriotic Forces of Donbass". You can prohibit and disperse this organization.
But what would you do with people who believe him and follow him? This is the problem. And if the number of such people was measured in dozens, then I probably would not be so eloquent. But there are thousands of them.
But on this is worth considering. Everybody.