China turned out to be clearly not impressed with the Silk Road route, which Ukraine offered Celestial Ukraine about a month ago. Recall that the Kiev authorities decided to send a "demo version" of a train from Ukraine to China, bypassing the Russian Federation. The route from the Odessa region ran through two seas (Black and Caspian), and the movement of the train only to the border of Kazakhstan and China lasted for 16 days.
Official Beijing responded by sending another Zhengzhou-Hamburg freight train through the territory of Russia and without using the territory of Ukraine decided to demonstrate that the Ukrainian version is not an option at all ...
It should be noted that the freight train, which left today from Zhengzhou (Henan Province), is a "jubilee" - 200. Since July 2013, such trains have been systematically delivering goods from China to Europe through the territory of Kazakhstan, Russia and Belarus. The total length of the route is 10214 km, and the train travels this distance in 14-15 days. Since the summer of the 2013 of the year, over the Silk Road version of the railway, more than 8,4 thousand containers have been transported to Western Europe from various Chinese provinces. Reports about it
Xinhua
.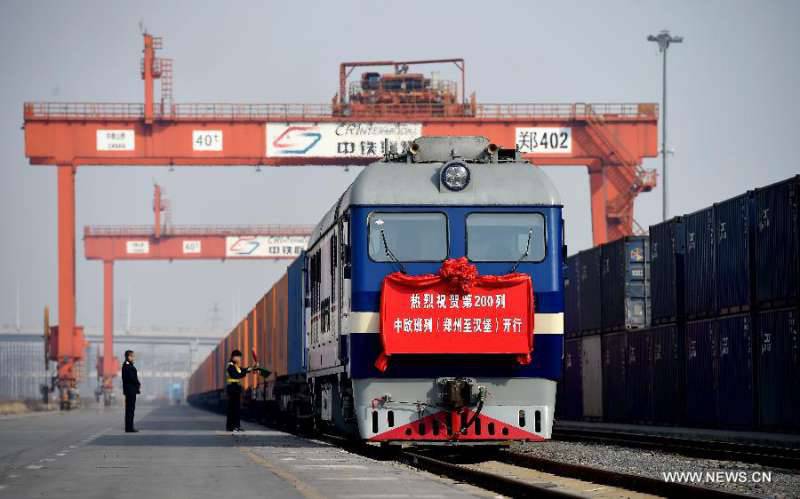 The organizers of the movement of the train carrying goods through the territory of Russia are a Chinese company.
Zhengzhou International Land Port Development
and German company
Construction co
jointly
with DB Schenker
.
The route through Kazakhstan, Russia and Belarus, experts say, is about a third cheaper than the option that Kiev was going to offer. Moreover, the Zhengzhou-Hamburg train does not need to overcome water obstacles by loading onto ferries, which saves time in overcoming the route.