Rosatom again announced a competition for the disposal of the largest reconnaissance ship "Ural", offering 1 billion rubles for the assignment, reports
Rossiyskaya Gazeta
with a link to the resource Flot.com.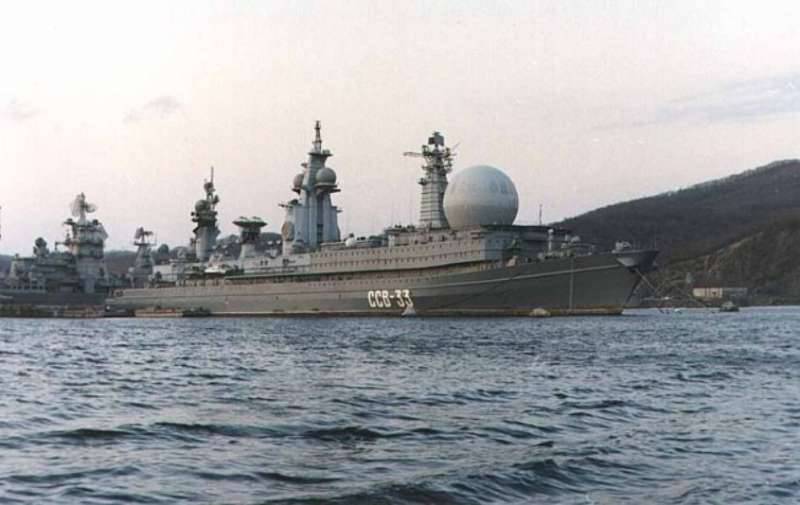 To carry out the previous similar application of the corporation, published in 2014 g, there were no more volunteers.
"Launched in 1983, the Urals (1941 project" Titan ", according to NATO classification Kapusta) - the largest ship in the Russian naval
navy
"It's 10 meters longer than the Peter the Great heavy nuclear missile cruiser," the publication explains, noting that the ship's weight and size characteristics frighten off potential performers.
The disposal of the "Ural" can not cope, including, and the Far Eastern plant "Zvezda", where the decommissioned giant was transferred for cutting.
"According to the technical task, the potential winner of the competition will be together with the" Ural "in a practically hopeless situation. The Far Eastern plant Zvezda, where the ship began to be dismantled, is not able to lift it to the slipway - the weight and dimensions of the Ural exceed the capacity of the shipyard. At the same time, it will not be possible to take him to another company, since the dismantling of hull structures and equipment already carried out "negatively affects the safety of towing the ship by sea", the resource writes.
Rosatom offered to participate in the preparation for towing the project developer's ship - Iceberg Central Design Bureau. However, this option is not the solution.
"In the Pacific region of Russia, there are no cranes with a lifting capacity of more than 1500 tons, as a result of which the ship of the 1941 project ship is not unloaded for assembling assemblies of nuclear steam generating plants (the propulsion unit weighs 3500 tons)," the technical specification says.
Radioactive equipment will have to cut out of the hull of the vessel, and in parts pack in protective kits.
"Similar work in the Pacific region has not previously been done, the disposal of a surface ship with a nuclear power plant is carried out for the first time," the document says.
Now it becomes clear why there are still no people willing to do this work.
Resource Help:
"The large nuclear reconnaissance ship" Ural ", which was the largest surface ship in the USSR and Russia with a nuclear power plant, was decommissioned in the 2002 year. In 2008, it was handed over to the civilian crew of the Zvezda plant for recycling, which began in the same year with an estimated completion period of two years. However, due to the optimization of the federal budget in 2009 and the reduction of allocations, work on its utilization was stopped, with the exception of work on unloading spent nuclear fuel. In November-December 2009, the SNF from the ship's reactors was unloaded and removed for reprocessing. In May, Rosatom 2014 of the Year announced the first tender for ship recycling. "