The head of the Ministry of Defense of Kazakhstan during the visit to Jordan concluded an agreement on the sale of modernized
tanks
T-72KZ Shygys, reports
Military Informant
with reference to informburo.kz.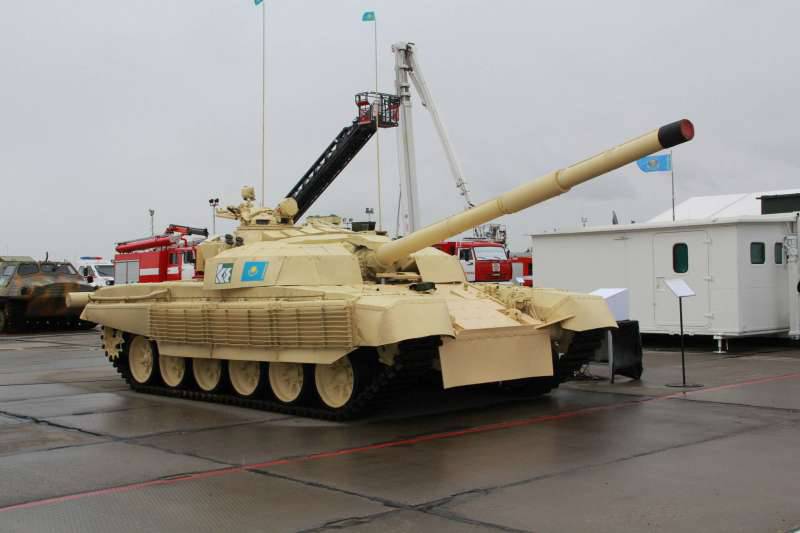 "The signed agreement will develop cooperation between the armed forces and the military industry of both countries," the message says.
"T-72KZ, which is very close in terms of the modernization scheme to the well-known Georgian variant T-72-SIM-I, but outwardly distinguished by the installation of characteristic Israeli packages of additional combined protection on the tower and the upper frontal part," writes the publication.
"The latest messages about the tank on the Internet date back to September 2015 of the year. The developers of the machine were the national company "Research Institute" Kazakhstan Engineering "in conjunction with" Kazakhstan ASELSAN Engineering "(the latter, apparently, is a joint venture with the Turkish company ASELSAN). It was reported that the weight of the machine is 42 tons . ", - noted on the resource forum" Military Parity ".
According to informburo.kz, "new fire control, new modern means of communication have been introduced into the new tank".
"The tank also has an improved TISAS fire control system with Israeli-made thermal imaging sights, a tank information and control system, a GPS-based navigation system and a Tadiran radio station," the Kazakh edition adds.
No data on the adoption of the Shygys tank in service could be found.