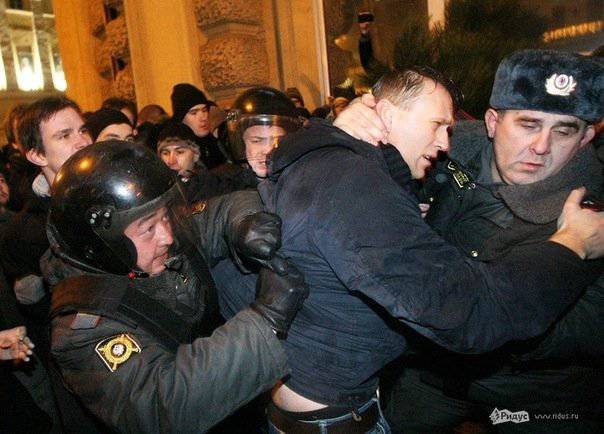 Recent events require evaluation. It is impossible to be silent, it is impossible to be silent. Before our eyes, for the umpteenth time, they are trying to overthrow Russian statehood.
The state criminal who collapsed the Great Country, Mikhail Gorbachev, along with US politicians, calls on Russia to "recheck" and show "concern". Human rights midfielders raised such a howl that would have done honor to a whole wolf pack. Everything is done almost in the open. Masks rejected.
That's good - we, too, will throw aside tolerance.
Let's put it straight - to be honest ...
It's time to end with liberalism. Until he finished with Russia. Stop nanny with those who are trying to plunge the country into civilian turmoil and war.
Let's face it, what the "oppositionists" are trying to do is an attempt at a coup d'état. Neither more nor less. Whatever they say to us, their goal is exactly that. Overthrow the power? In order to become the power!
To once again share with our foreign sponsors our wealth, our territories and our people.
It is time to sharply toughen the punishment for attempts of unauthorized processions, demonstrations and rallies. Now for the Orange is a fun game. See how happy their faces are when riot police pack them into buses.
Smiles, photos on the memory, waving handles.
A must sit.
500 or 1000 rubles fine is not a punishment for attempting to riot, it is a mockery. The mockery of common sense. Impunity is the mother of crime.
I propose a new State Duma to immediately adopt changes to the relevant legislative acts. The penalty should be increased at times.
For the first violation of the law on rallies - a fine for random violators, juvenile fools and 15 days of socially useful work for professional demonstrators, for "bulk" "yashin" and "Nemtsov".
For repeated violation of the law - there can be no fines. Arrest on 60 day.
Let the streets sweep. Dirt will be less, and all normal residents of the country - calmer.
For the third violation of the law - 1,5 year in prison.
For the following - this is already a repeat offender - from 1,5 to 5 years.
I assure you, six months after the adoption of such a law, no one will smile cheerfully and be photographed in the OMON buses. And then no one will try to carry out a coup d'etat.
Further. Very many of those who are trying to carry out a coup d'état, have foreign citizenship. There is nothing to almond here. The slightest violation of the law and a citizen of the United States, France or Israel should go home. Deportation from the country is a normal measure, which any self-respecting state is obliged to use. After that, the entry of such gentlemen to Russia should be closed. All - once and for all. Let them howl in Washington and arrange their sabbaths in front of our embassy in London.
They will come illegally through Belarus, Kazakhstan or Ukraine - it will be a good reason to confer with current or future colleagues in the Eurasian and Customs Union. And violators of immigration laws - in prison and on deportation. In case of repeated violation of the border of the Russian Federation - to give time and send to the construction of the national economy. There are now such active, just not enough.
It's time, it's time to be tough. Not cruelty, but rigidity. Hardness and determination. And the people are waiting for this.
In addition to several thousand "dissenters", the entire good hundred million Russian voters can not wait, and when power in Russia will become power!
In the United States and Great Britain for the same thing they arrest, imprison, give deadlines. And we write out 1000 rubles fine.
But the fate of the country is not a toy.
It's time to clean up. It's time to be. But now it becomes vital. We have nowhere to retreat. Enough Nadarilis, listened enough, suffered. The more we retreat, the more we whet their appetites. The current borders of Russia are very similar to those of our country in 1612. Four hundred years down the drain.
Because of these "freedom fighters".
Everything. It's time to stop. Not one step back and only forward.
Don't you like Russia? Goodbye. We have open borders.
Do you want a revolution? Good riddance to the Middle East. There are now going to "revolutionaries" from around the world.
And we in Russia do not need such happiness.