Just like in the Russian folk tale, where about a crossroads with a stone. And a good fellow in front of him. And it is written on the stone: if you go to the left, you will lose everything that is, but you will live, you will go to the right, you will die, you will go straight, you will be whole, but you will forget yourself.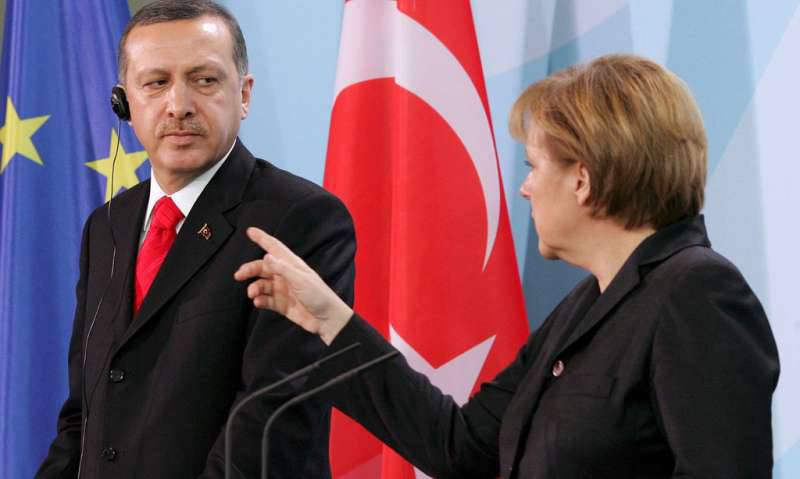 Difficult choices, but in one interpretation of the tale ten dozen ambals fell out of the forest and were told that you were going to hang around - right here on the head and get it.
Something similar, and we all have a good grandmother Merkel known.
More precisely, nothing really comes out, but more and more sideways. Especially with your beloved granddaughters because of the warm sea.
Frau Merkel today is not just at a crossroads, but at a crossroads, which is generally incomprehensible where it can lead. Fairy-tale terminology in terms of Scylla and Charybdis. Between Putin and Erdogan. Who is who, by the way, is more or less clear. Scylla is, unequivocally, Erdogan. From Scylla (as, incidentally, from Erdogan) it was possible to pay off six victims. Erdogan was offered three victims (billion), but "not enough will be." So everything is as in the Greek myth.
Charybdis, according to myths - it was generally incomprehensible that, living on the principle of "all or nothing", but usually swallowed everything. That is, our second participant crossroads is fully applicable.
Merkel rushes from one side of the problem to the other. And, if Putin is not particularly eager to discuss problems (which is quite understandable), then the Chancellor visited Turkey three times this year. This is actually a step of despair caused by the inability to resolve the migration crisis. Which Merkel herself arranged.
Today, the German Chancellor badly needs at least some positive results to strengthen his own position in the country and the position of his party. Otherwise, in the next elections, not only Merkel will lose her post, but also the CDU will lose ground. Colleagues in the party and the ruling coalition have repeatedly hinted that they would rather sacrifice their leader than their position in the country. In both senses.
The problem is that leaving Merkel from politics does not solve the problem. Merkel will leave, but the migrants will remain. And the bridge is not enough. Will not help.
So it remains to feed Scylla.
But who said that, having received the sacrifice, Turkey will rush to solve the migration crisis for Europeans, restraining the flow of migrants? Yes, Erdogan expects to receive billions of euros from Europe, and the figure "three" is unlikely to calm down. But in Brussels, too, less fools, and not in a hurry to shell out. Moreover, to allocate money is collected only in a targeted manner. Under the report, so to speak. What Erdogan does not like, because his plans for arranging the "native Turkish lands" in Syria require huge costs. This you, you know, do not steal oil from under the floor baryzhit.
Turkey also hopes to get a visa-free regime with the European Union in the second half of this year, but probably the Europeans will not take this step. They have already been taught by bitter experience in terms of what they can bring from the Turkish coast.
Indeed, after all, Ankara, through the mouth of its prime minister, almost immediately after concluding an agreement with the EU on refugees in the amount of 3 billion euros, stated that this money was not enough. Davutoglu called this amount "purely symbolic" and proposed to increase it substantially. In this regard, in Europe, many have concluded that the European Union, thanks to the efforts of Merkel, was on Erdogan's hook.
And what is the second component, that is, Putin? And the fact of the matter is that nothing. It continues something there in Syria. Of course, this is also reflected in Merkel properly, the pressure was unequivocally, is and will be. But sorry, no one has appointed Frau Angel as a mediator between the West and Russia. Itself asked for it.
12 February, just after the visit to Turkey and Ukraine, Merkel and Hollande will arrive in Moscow. What do you think for Minsk to speak? Yeah ... Yes, already written off Petruha at the expense, as it is written off. It will not be about him, as it is not about him. There are more important things to do.
The fact that Erdogan very gently took the whole of Europe behind the water cannon is a fact. And while just holding, gently nodding to the crowd wanting to run there. Good so holding. And somehow only one person can change this situation today. And this man is not a Nobel peacemaker Obama. He, too, will not give a penny to Erdogan, for the European Indians don't care at all about this sheriff. And with the money, too, is not very.
Do you feel the family nineties smelled? As it is. If the bandos hit you, you need to get a more real roof. Well, or pay. Pay Europe is not something that can not, of course. Here are just frankly afraid of the usual kidalova.
In this case, there is an option that someone will strike on the head with impudent people. Who could it be in today's world? Yes, and would take cheap?
There are, of course, a couple of options ... But they are all from that fairy tale. About a crossroads with a stone. Or about Scylla with Charybdis.
In a bad tale got Frau Merkel.